Many of today's environmental challenges are so big that it can seem impossible ever to get a handle on them. Consider ocean plastic pollution: Studies have shown that huge quantities of plastic trash wash into the ocean every year, where they age and degrade into tiny fragments. So far, though, scientists have lacked good methods for detecting and tracking all that waste – the first steps toward cleaning it up.
In a recent study, University of Michigan climate and space scientist Christopher Ruf and his research assistant, Madeline Evans, proposed a new approach: using an existing network of satellites that monitors tropical wind speeds. They found that zones where the water's surface is unusually smooth correlate with dense concentrations of microplastic particles. Their work could help target cleanup efforts and identify when and where big quantities of plastic trash are released into the ocean.
Also today: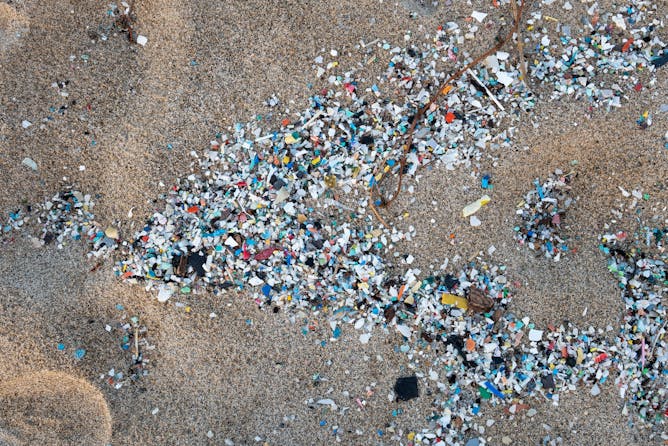 New research suggests that an effective way to locate and track large concentrations of microplastics in the ocean could be from high in the sky.
Politics + Society
Former President Trump is asking the courts to do what tycoon Trump once would have denounced: tell some of America's most powerful corporations that they have no choice who they do business with.

Democracies degenerate because of cunning leaders. Democracies also crumble because of the people themselves – and the US founders believed education would be crucial to maintaining democracy.
Arts + Culture
As part of the nation's massive wartime mobilization effort, millions of Americans, for the first time, traveled abroad – where many had their first encounters with the marine predators.
Economy + Business
Science + Technology
Podcast
From our International Editions
Could a national football team of multicultural players usher in a more inclusive version of Englishness?

Cauliflowers are unique, and now we know why.

In Afghanistan, it does not pay to be on the losing side. There is a danger that a spreading perception the Taliban are poised to take over could trigger a wave of government and army defections.

---

Today's graphic