Well, it's official: Russia will be withdrawing from the International Space Station. Yuri Borisov, the new head of Russia's space agency, announced the country will cease collaboration aboard the International Space Station "after 2024" and focus on building its own station.
The day-to-day function of the station is unlikely to be disrupted immediately. But with six of the space station's 17 modules belonging to Russia – including the module responsible for maneuvering and maintaining altitude – this decision throws a big wrench into plans to extend the station's operation past the agreed-upon end date of 2024.
As NASA and other space agencies scramble to understand what this announcement means and how it will affect the floating lab, Wendy Whitman Cobb, a professor of space policy, explains that the Russian withdrawal marks "the culmination of months of political tensions involving the ISS. The question now is whether the political relationship has gotten so bad that working together in space becomes impossible."
Also today:
Daniel Merino

Assistant Science Editor & Co-Host of The Conversation Weekly Podcast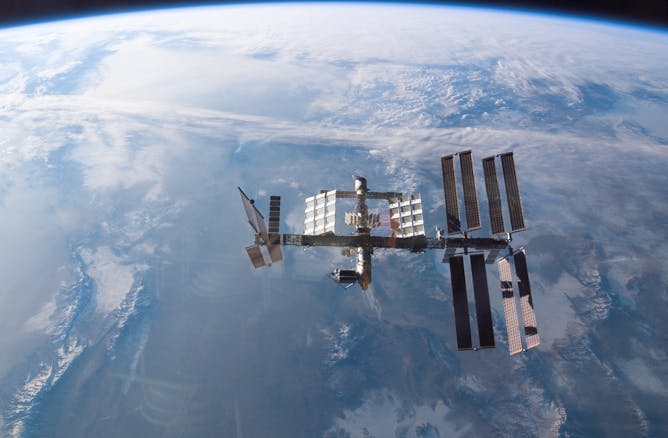 The head of the Russian space agency announced that the country will withdraw from the International Space Station after 2024. A space policy expert explains what this means and why it's happening now.
Politics + Society
Myanmar's military junta is losing some control over the country, but its execution of four high-profile leaders and prisoners sends a warning to Myanmar citizens and the rest of the world.

The White House has distanced itself from the US House speaker's potential visit to Taiwan. But does it still signal a shift in policy over diplomatic ties with the island?

The explicitly anti-democratic movement seems to have the ear of a major GOP donor – along with at least two GOP front-runners for the US Senate.
Science + Technology
Environment + Energy
A few tree species, including American beech and eastern hemlock, were responsible for the bulk of carbon storage.
Ethics + Religion
Health + Medicine
By late July 2022, monkeypox was present in more than 70 countries with significant spread in certain communities. As a result, the World Health Organization began taking steps to fight the virus.

Researchers suggest it is important to build daily habits that support mental well-being and seek care when necessary.