During the pandemic, the editors of the Oxford English Dictionary started offering special updates of older definitions like 'elbow bump' and 'self-isolate' to reflect the new lexicon of the coronavirus.
To University of Memphis psychologist Roger J. Kreuz, these changes give us a glimpse into how language can quickly change in the face of unprecedented social and economic disruption. But being officially enshrined in the Oxford English Dictionary is no small feat, and time will tell whether some new words, like 'quarantini' and 'zoombombing,' have staying power.
Also today:
Nick Lehr

Arts + Culture Editor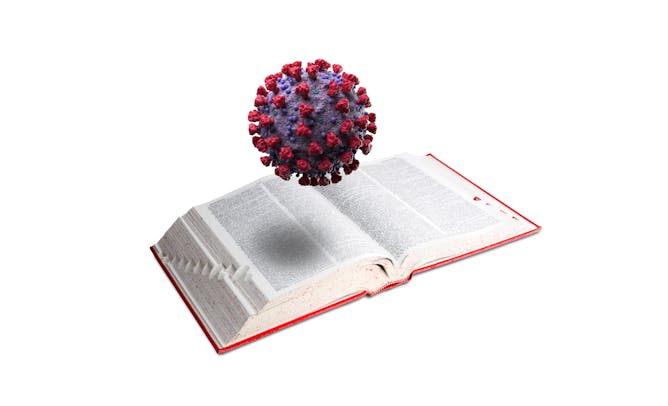 Updates to the Oxford English Dictionary provide a fascinating glimpse into how language changes in the face of rapid and unprecedented social and economic disruption.
Environment + Energy
Health + Medicine
Ethics + Religion
The former justice received a Jewish funeral at the Supreme Court. But in other ways, Ginsburg's burial is breaking with traditional Jewish death rituals.

From the crusades of the medieval period to racial violence today, mankind has sought ways to 'sanctify' harmful actions, explains a scholar of religion.

The 17th-century plague of Italy has lessons for today: Back then, too, people broke public health laws, but there were clergymen who intervened.
Science + Technology
Politics/Election '20
When voters in November pick among the candidates for state legislatures, they are choosing the people who will make the new electoral maps for congressional elections.

The Affordable Care Act has a date with the U.S. Supreme Court on Nov. 10. In the wake of Justice Ginsburg's death, the health car law hangs in the balance of a court with a four-four split.
Education
To create a less worrisome environment for students of color, colleges should let them to choose their own roommates, says a researcher who looked at student housing policies.

If families embrace reading as fun and routine and teachers work more closely than before with the families of their students, it's possible that remote learning won't be a huge obstacle to literacy.
From our international editions
Leaded petrol hasn't been used since 2002, but new research found traces of it end up back in the air after bushfires.

An EU-UK trade deal will reinforce the certainty and continuity that South Africa, Botswana, Lesotho, Namibia, and Eswatini – plus Mozambique are seeking in their relationship with the UK.

...and why Professor Chris Whitty is right.