The U.S. Constitution doesn't give kids the right to an education.
Whether they have such a right is an issue the Supreme Court has avoided for nearly four decades. But last Thursday, a federal appeals court found the teaching quality at five Detroit public schools inadequate, ruling that students had a right not just to attend school – but to learn to read while they were there. It was the nation's first such federal ruling.
It's too soon to know what the repercussions will be, explains Kristine Bowman, a Michigan State University scholar of the law and education policy. But, she adds, "no matter what happens next, the appeals court's decision will remain groundbreaking."
Also today: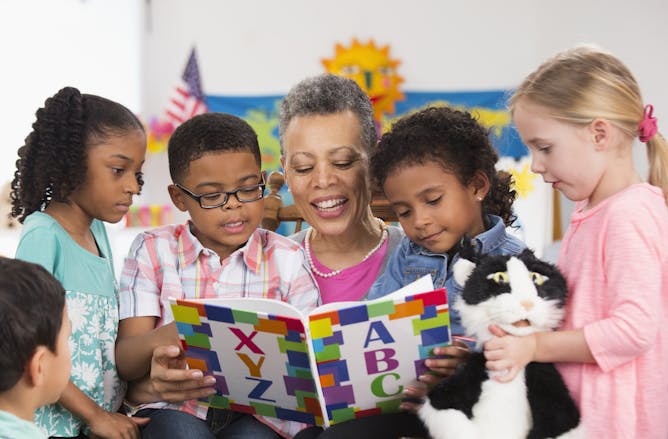 A federal court with jurisdiction over Kentucky, Michigan, Ohio and Tennessee found that the state governments have a legal obligation to ensure that children can learn how to read.
Health + Medicine
The idea, says our experts, was to shut down Obamacare. But it didn't work out that way. This could take on more importance as the number of uninsured swells due to coronavirus.
Economy + Business
While there's no evidence the coronavirus is spread through food or packaging, company executives could be prosecuted if that changes – and they chose to keep a plant open despite a factory outbreak.

The response to COVID-19 suggests how we can leverage entrepreneurial approaches to climate change.

A volunteering expert offers guidance on how to help at a time when you may need to keep your helping hands to yourself.
Politics + Society
African Americans, young children and rural Americans are a few of the groups at risk of being undercounted in this year's census.

In many sub-Saharan African countries, 20% of mothers have suffered the death of a child, a new study finds. In Mali, Liberia and Malawi, it's common for mothers to lose two children.

When fighting a lethal foe on home soil, Lincoln expertly managed leading politicians; related well with the people; and dealt clearly with the military.
Environment + Energy
From our International Editions
Eating locusts is an old strategy used to get food after locusts devastated crops, but things have changed.

Swedish authorities claim the country is rapidly approaching herd immunity.

The Australian government relies on the temporary graduate visa to attract international students. But these visa recipients are left helpless as they face a loss of financial security.