Heat waves scorched Europe this week as record-high temperatures killed hundreds and sparked fires in France, Spain and even London. But Europeans weren't the only ones sweltering under the sun. Americans in the South and Midwest have also been sheltering from blistering temperatures that broke records in some cities. While Brits got a brief respite from a thunderstorm, more Americans – including me – will face dangerous conditions this week as heat waves spread.
But besides the obvious effects extreme heat has on individuals, economies suffer too, writes University of Arizona economist Derek Lemoine. And that's bad news for the U.S. and Europe, whose economies are already feeling the severe strain of high inflation. Lemoine, who studies the effects of weather and climate change, explains four ways heat waves hurt economic growth.
Also today:
Bryan Keogh

Deputy Managing Editor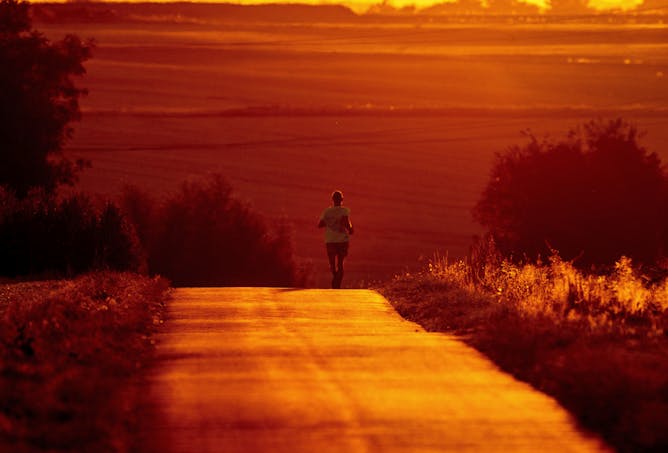 The UK recorded blistering hot temperatures as the US and Europe also experienced sweltering heat waves.
Ethics + Religion
Faith can inform opinions about abortion on both sides of the political debate, but the Bible itself says nothing directly about the topic, a biblical scholar explains.
Health + Medicine
Models shows that some 4 million people in the US have lost a grandparent to COVID-19. But until now, there has been a dearth of research into the mental health effects of losing a grandparent.

While sunscreen has the potential to reduce skin cancer for light-skinned people, it has never been shown to do the same for Black people. Yet that distinction is lacking in public health messaging.
Environment + Energy
With President Biden expected to announce new climate plans today, a climate scientist looks at what works and some popular ideas that aren't as cheap or effective as people hope.

Polar bears are increasingly seeking sustenance in human trash because of melting sea ice and a loss of hunting opportunities. The result is a rise in human-bear conflict – and dead bears.
Education
Politics + Society
Science + Technology