The assertion that "whisky is for drinking, water is for fighting!" is widely attributed to Mark Twain, but today you're likely to hear it from governors. That's because states, confronted with climate stresses and the prospect of severe droughts, are taking battles over water usage and control into the highest courtroom in the land.
Robert Glennon, an expert on water policy and law at the University of Arizona, explains what is behind these clashes before the Supreme Court over water rights. He suggests that a better tactic for states would be to consider conservation before litigation.
Also today:
Jennifer Weeks

Senior Environment + Energy Editor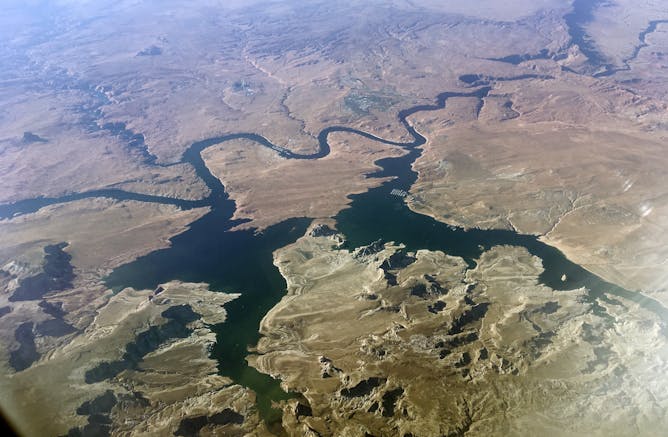 The Supreme Court recently dealt defeat to Florida in its 20-year legal battle with Georgia over river water. Other interstate water contests loom, but there are no sure winners in these lawsuits.
Politics + Society
In the aftermath of Adam Toledo's death, police and a prosecutor framed the incident as a confrontation with an armed male holding a gun. Should reporters have been so quick to accept that version?

As GOP-run statehouses across the country tighten voting restrictions, a bill in Congress would, its Democratic sponsors say, undo more than 15 years of moves to make voting harder.

Only one president has done so – Franklin Delano Roosevelt – but others considered it, and even tried.
Environment + Energy
Russia is attempting to claim more of the Arctic seabed – an area rich in oil, gas and minerals – and its fleet of icebreakers is helping shipping expand. The US needs some creative ideas to catch up.

Because Brazil's economic prosperity in the last two decades is increasingly linked to the Amazon's good health, restoring the country's economy is a critical first step toward ending deforestation.
Ethics + Religion
Science + Technology
It's normal for different people to mount stronger or weaker immune responses to a vaccine, but post-shot side effects won't tell you which you are.

Using the incredible wealth of fossil data and a modern ecological theory, researchers estimated population density for the extinct apex predator.
Education
This infusion of funds will help struggling child care providers and support parents who have to exit the workforce to care for their kids.

Asian Americans are more likely to participate in remote learning than other racial groups, federal data show. To understand why, three experts weigh in.
Health
Trending on site
During the pandemic, clear and reliable health communication can literally be a life-and-death issue. Researchers who focus on the science of science communication highlight strategies that work.

Gun violence as a whole is much more common, and much more deadly, than mass shootings are.

The vaccine rollout is underway, but what happens if there is a supply disruption? Would it be feasible to change strategy and give more people a first dose? An expert analyzes the data.

---

Today's graphic