No matter whom President Donald Trump nominates to replace the late Associate Justice Ruth Bader Ginsburg, if that person is confirmed, the Supreme Court will be a decidedly conservative body for the first time since World War II.
Morgan Marietta, a political science scholar at the University of Massachusetts Lowell who studies the Supreme Court, explains three ways a 6-3 conservative court would be different from the 5-4 split Americans have become familiar with.
Also today: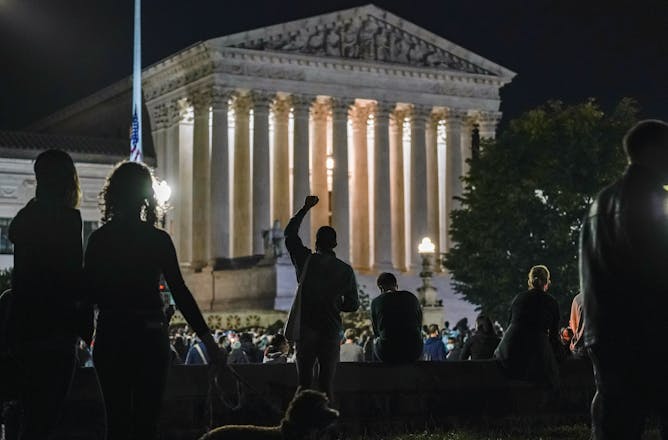 A 6-3 conservative court will hear a broader range of controversial cases, shift interpretations of individual rights and put more pressure on local democracy to make policy decisions.
Politics/Election '20
Amid what will likely be a flood of charges, countercharges and a lot of heated rhetoric, there are prescribed legal processes that will play out in the event of election challenges.

Ruth Bader Ginsburg's death sparked many tributes to her work ending sex discrimination against women. That work also paved the way for successes in the fight for equal rights for the LGBTQ community.
Science + Technology
The SARS-CoV-2 virus usually infects the body via the ACE2 protein. But there is another entry point that allows the virus to infect the nervous system and block pain perception.

From setting passwords to cultivating patience, a mindful approach to virtual working, studying and socializing can make life online manageable.

Last week, much of the Midwest and eastern US experienced hazy skies and red sunsets. The cause was smoke transported from the Western US by the jet stream and spread as far as Boston and even Europe.
Environment + Energy
Economy + Business
Tiny Guyana hoped to see unprecedented wealth this year as ExxonMobil's offshore wells began pumping out crude. Instead, it got a pandemic and political strife. Other oil states are struggling, too.

A study of a retirement program in China found that people who retired early suffered significant cognitive decline that put them at risk of early onset of dementia.
Ethics + Religion
From our international editions
The Horn of Africa is the epicentre of foreign military activity. Foreign troops have been deployed to support peace initiatives, subdue terror groups and support foreign security initiatives.

The KKK appeared in Canada in 1921. Nowhere else in Canada did the Klan achieve the influence it attained in Saskatchewan, where it helped bring down a government.

Why UK government would have been wiser to either stick to pure business subsidies or offer its August restaurant scheme seven days a week.