When the president checks into a hospital suffering from a potentially deadly virus, it's time to call on the constitutional law scholars.
That's because the law is clear that if the commander in chief is too ill to carry out his duties, he may transfer power to the vice president. George W. Bush did that when he had to undergo anesthesia for a colonoscopy.
But the law is murkier about what happens if the president may be unable or unwilling to give up power, even if he is clearly too ill to do his job. That situation, writes Stephanie Newbold, a scholar of public administration specializing in constitutional and administrative law at Rutgers University-Newark, poses a potential constitutional crisis.
Also today:
Naomi Schalit

Senior Editor, Politics + Society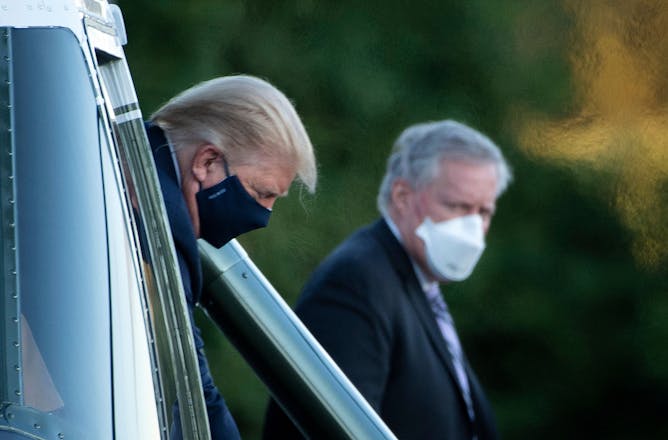 A president may transfer power to the vice president if they are no longer capable of carrying out their official role. But there are many unanswered questions about this rarely used process.
Science + Technology
New research suggests individual bees are born with one of two learning styles – either curious or focused. Their genetic tendency has implications for how the hive works together.

Artificial brains are far in the future, but computer chips that work like brains could keep computers advancing when today's silicon transistor chips reach their limit.
Health
Economy + Business
Women suddenly saddled with increased caregiving duties – whether for children or elderly parents – have been forced to reduce their hours, which hurts their careers and lifetime earnings.

From thousands of people chipping in as little as $5 to George Floyd's GoFundMe to donations well in excess of $1 million to HBCUs, anti-racist philanthropy is rising.
Ethics + Religion
Environment + Energy
Conservation or copper? A proposed mine in northern Minnesota pits industrial jobs against a thriving outdoor economy.

Greenland's glaciers have retreated so far that they can no longer support the ice sheet that feeds them. The ice sheet system has reached a new normal of consistent annual ice loss.
Politics/Election '20
President Trump was direct in announcing he had COVID-19. But presidents in the past have been very good at deceiving the public about the state of their health. Which direction will Trump go now?

So far, Trump and Biden are spending money on Facebook and Instagram at roughly the same rate as Trump and Hillary Clinton did during 2016.
Education
Trending on Site
Older coronavirus patients face grimmer outlooks. A virologist explains the aging-related changes in how immune systems work that are to blame.

A politician who wields a comeback with skill can use it as both a bludgeon and a shield, damaging the opponent without hurting their own popularity with voters.

The conservative cable news channel particularly favors the term when explaining opposition to Donald Trump. This framing of the news can lead Fox viewers to see the world as us versus them.