A large reservoir at an abandoned fertilizer plant near Tampa Bay became unstable last week, and Florida officials are now pumping millions of gallons of contaminated water into the bay to prevent the reservoir's walls from bursting. The plan protects downstream homes, but it comes with an extraordinary risk: The water contains phosphorus and nitrogen – ingredients in fertilizer that can fuel massive algae blooms. Those blooms have the potential to devastate marine ecosystems. Toxic red tide would be a worst-case scenario, and a red tide outbreak is already underway just down the coast.
Marine biologist Larry Brand of the University of Miami explains the risks and how agriculture across South Florida is increasingly putting the state's fragile marine ecosystems at risk.
Also today:
Stacy Morford

General Assignments Editor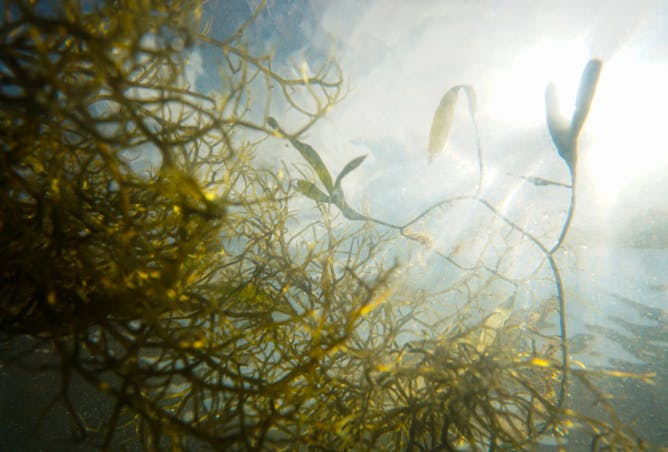 Harmful algae blooms are an increasing problem in Florida. Once nutrients are in the water to fuel them, little can be done to stop the growth, and the results can be devastating for marine life.
Health
As more people become vaccinated, many of them are eager to resume their social lives. And yet, many are fearful, and some may not want to return to life as they previously experienced it.
Education
Arts + Culture
Politics + Society
Economy + Business
Science + Technology
Recently in the spotlight for its role in the Pfizer and Moderna COVID-19 vaccines, mRNA is not a new invention. It's a crucial messenger molecule at work every day in every cell in your body.

The traveling salesperson problem is so difficult that practical solutions can never be perfect – only good enough. The challenge is coming up with the best approximations.
Ethics + Religion
Podcast
From our International Editions
Born into post-World War I European royalty, the Duke of Edinburgh came to represent the archetypal English aristocrat. Along with those 'gaffes'.

Climate change is strengthening the division between the ocean surface and the abyss.

Climate change has already made tropical oceans too hot for some marine species to survive. As they flee towards the poles, the implications for ecosystems and human livelihoods will be profound.

---

Today's graphic