The Supreme Court handed supporters of gay and transgender equality a significant victory yesterday by ruling that LGBT discrimination violates the 1964 Civil Rights Act. The 6-3 ruling overturns laws in over half the states that allowed companies to fire workers for being gay, bisexual or transgender.
Texas A&M diversity scholar George B. Cunningham wanted to know if fostering an inclusive environment had any impact on an organization's performance. Since his specific focus is sports, he looked at how LGBT inclusiveness in a university's athletics department affected its performance on the field. Across the board, his and other researchers' work show a connection between inclusive policies and institutional success.
Also today:
Bryan Keogh

Senior Editor, Economy + Business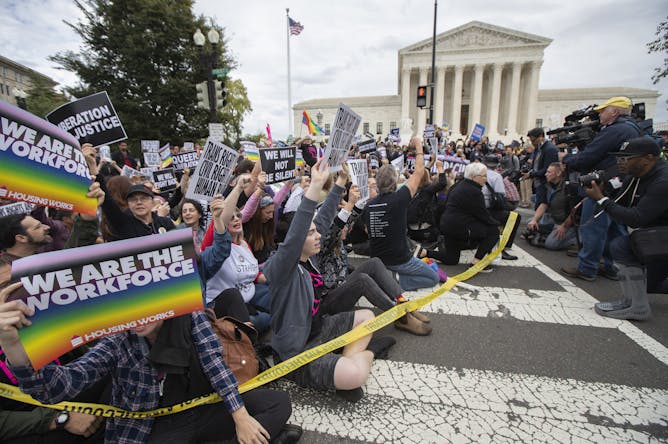 Before the Supreme Court ruled that Title VII protects LBGT employees, some organizations were already aware of the benefits of inclusion.
Health
SARS-CoV-2 can be spread through the air. But just how much of a factor that is has been hard to determine. Recent evidence suggests it is common, posing problems as public places begin to reopen.

Many people delayed routine doctor visits during social distancing. Now that distancing guidelines have eased, people still are concerned about going to the doctor. Here, two doctors offer guidance.

Without a vaccine, the cost of reaching herd immunity during a pandemic is counted in lives lost, and it won't quickly stop the virus's spread.
Arts + Culture
Science + Technology
'Normal' body temperature varies from person to person by age, time of day, where it's measured, and even menstrual cycle. External conditions also influence your thermometer reading.

Martian meteorites allow scientists here on Earth to decode that planet's geology, more than a decade before the first missions are scheduled to bring rocks back home from Mars.
Education
School systems realized that they couldn't deal with the pandemic on their own.

If a high school doesn't offer advanced coursework, having students take such a class remotely offers a promising alternative.
Politics + Society
Pandemic devastation surrounds it on all sides, but tiny Uruguay has COVID-19 under control – just the latest win for a country that's always stood out.

Many of the public employee pension plans run by states don't have enough money in them to make upcoming pension payments to retired state workers. The pandemic could make that problem much worse.

Though many in the US are disoriented and disheartened by the lack of an effective federal response to the coronavirus pandemic, American thinker John Dewey would not have been surprised.
Ethics + Religion
From our International Editions
In this week's round-up of coronavirus articles by scholars around the globe, we explore the disproportionate impacts of COVID-19 and the latest on drug trials.

A simple experiment suggests that we urgently need more research in this area.

African policymakers should strenuously safeguard their right to choose from the widest possible range of technology options that suit their countries' development needs.