Top headlines
Lead story
The U.S. weather map is starting to look like one giant heat alert: A bright red stripe of temperatures in the 100s covers most of the Great Plains. Humid heat is headed for the Mississippi Valley and the Northeast. The Southwest is still sizzling. Top that off with wildfire smoke, and it's going to be one rough week for anyone with health problems.
When the air gets this hot, older adults, in particular, struggle. Boston University Professors Deborah Carr and Ian Sue Wing, along with researcher Giacomo Falchetta, explain the risks to watch for – from medications that can make people more sensitive to heat to worsened cognition in people with dementia.
[ Science from the scientists themselves. Sign up for our weekly science email newsletter. ]
Stacy Morford

Environment + Climate Editor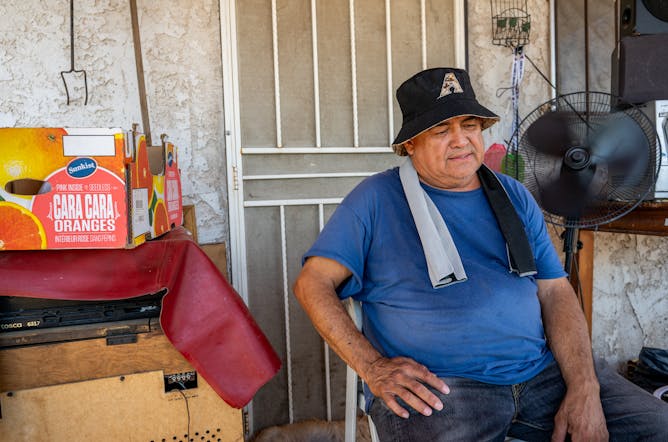 Health and climate change researchers explain the risks and why older adults, even those in northern states, need to pay attention.
Economy + Business
Ethics + Religion
Politics + Society
Two Supreme Court rulings on the use of race appear at odds with each other. Blame Chief Justice Roberts's ambivalence on race, a constitutional law scholar writes.

Republican Sen. Tommy Tuberville of Alabama is using a long-standing Senate practice to block military promotions.
Education
Health + Medicine
Environment + Energy
US cities are starting to reform laws that required developers to provide minimum amounts of parking. But there's more they can do to loosen the auto's grip on downtowns.

How much does human behavior influence climate change? Can it be changed, and how? In June, climate change experts and behavioral scientists came together to answer these important questions.
Science + Technology
Fragile X syndrome is the most common inherited form of intellectual disability. Using short bits of DNA to fix improperly transcribed genes may one day be a potential treatment option.

The way particles interacted while the universe was forming seconds after the Big Bang could explain why the universe exists the way it does – a physicist explains matter-antimatter asymmetry.