Corporate America reacted to recent nationwide anti-racism protests by pledging hundreds of millions of dollars and vowing to hire more people of color. Kimberly Houser, an expert on unconscious bias, has seen this before. Back in 2014, Silicon Valley responded to concerns the industry was dominated by white men by making similar promises to diversify. But little has changed in six years, especially for Black tech workers.
The problem, Houser explains, cannot be fixed with mere pledges or good intentions. But artificial intelligence, carefully designed, could do the trick, she writes.
Also today:
Bryan Keogh

Senior Editor, Economy + Business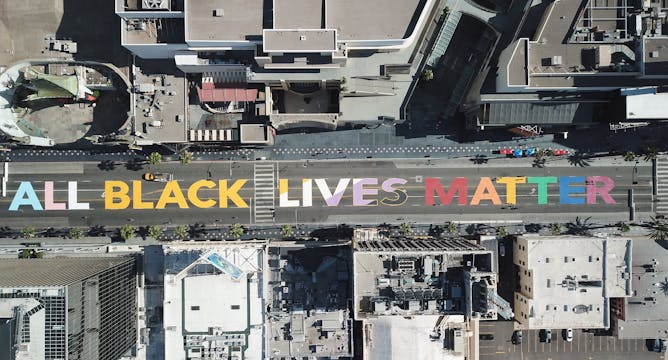 Recent anti-racism protests have spurred dozens of companies to vow to diversify their workforces, yet big tech's efforts to do so since 2014 show promises aren't enough to overcome the real problem.
Arts + Culture
Health
Testing large numbers of people regularly would reduce the spread of the coronavirus in the US. Laboratory testing is slow and expensive, but rapid screening tests could be the answer.

A new approach is making a big difference in Virginia.
Economy + Business
Education
Politics/Election '20
Can political prediction models pick the election winner better than the polls, the weather or Washington's football team?

An expert of the Israel-Palestine conflict explains the history of Jewish settlements on the West Bank, and why they are so controversial.

Before vice presidential candidate Kamala Harris, before presidential candidate Hillary Clinton, before Speaker of the House Nancy Pelosi, there was Congresswoman and firebrand Bella Abzug.
Science + Technology
Environment + Energy
From our International Editions
Mauritians have been volunteering to help clear an oil spill from the MV Wakashio but have been told not to. It's difficult when the threat of oil and inaction is what many have seen.

The port, and surrounding neighbourhoods devastated by the explosion, are at the heart of Beirut.

The moment a chick hatches from its egg, maggots burrow into its skin to drink its blood, usually killing it. But scientists have found a way to stop the blood-sucking parasites.