You want to know who won. It's Election Day, and it doesn't matter if you're an American in the U.S. or a curious onlooker overseas, you just want to know who won. Right now, if possible. Or at least immediately after the polls close, if not sooner.
It's been this way for more than a century – and media outlets have been feeding the public's desire with dazzling election night spectacles since the 1800s, as Indiana University journalism scholar Mike Conway explains. But whereas in the past the focus has been on polling, predictions and quick results, this year could be very different.
Also today:
Jeff Inglis

Politics + Society Editor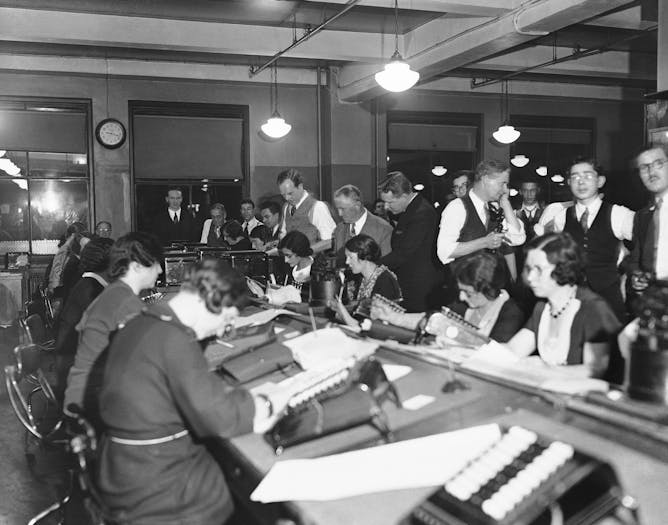 Journalists want to be first to tell the public who won, but the 2020 election night news frenzy may be very different from past years' coverage.
Science + Technology
Earth's magnetic field locks information into lava as it cools into rock. Millions of years later, scientists can decipher this magnetic data to build geologic timelines and maps.

Design bloggers have long had creeping suspicion of a more monolithic web, so a team of researchers decided to analyze the aesthetics of nearly 10,000 websites.
Arts + Culture
Since women see men who own pets more favorably, you'd think online daters with cats in their profile pics would get more matches...

Today's beds are thought of as bastions of privacy. But not long ago, they were the perches from which kings ruled and places where travelers hunkered down with complete strangers.
Health
Finally, an answer to a long-bubbling question: What works best – bar or liquid soap?

Death rates for hospitalized COVID-19 patients fell from 25.6% in March to 7.6% in August, according to a new study on three hospitals in New York. A study in the U.K. found similar results.

Health policy and politics scholars expect political fallout from the federal response to the pandemic will play out for years, with trust in government taking a big hit.
Economy + Business
Ethics + Religion
Education
From our international editions
Populists leaders are supposed to use simpler language than their opponents. A comprehensive study shows this is not always the case.

A Trump loss on Nov. 3 would demonstrate that the grassroots organizing of American women has paid off.

Punters are more cautious than the polls, suggesting this election might be closer than the media is reporting.