Winter is phasing into spring across much of the U.S., and that can make for big weather swings. How do plants handle the transition?
As Boston University biologist Richard Primack explains, trees and shrubs in cold-weather zones have evolved to handle shifts from cold to warm and back. Now, though, climate change is scrambling the signals faster than some species can adapt.
Also today:
Jennifer Weeks

Senior Environment + Energy Editor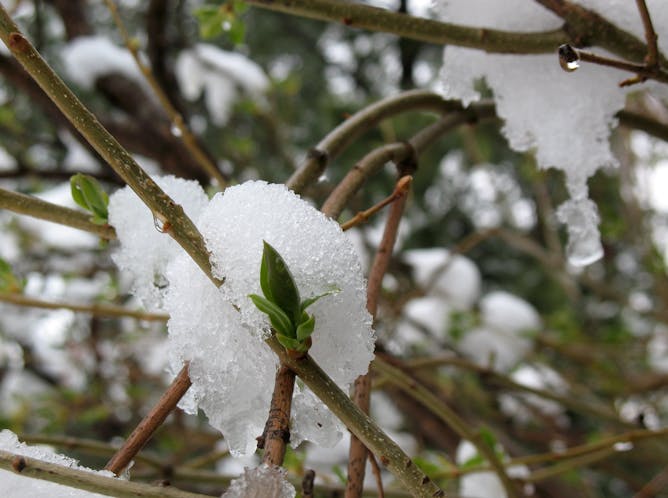 Trees and shrubs in cold-weather climates rely on certain signals, such as temperature and light, to know when to leaf out and bloom. Climate change is scrambling those signals.
Ethics + Religion
Environment + Energy
Education
Politics + Society
Recent federal mask mandates on all public transit have burdened bus drivers with difficult and sometimes dangerous duties to reduce the spread of the coronavirus.

Stereotypically, gay, queer and trans kids flee small towns to find acceptance in big, diverse cities like New York or Chicago. But evidence shows many will eventually return to rural areas.

If history is a guide, expanding police powers to address current white nationalist threats could result in future repression of activists of color.
Health
Podcast
Trending on site
Donald Trump didn't make a triumphant return on Jan. 20 and is unlikely to on March 4. How a 19th-century religion dealt with a similar disappointment may give clues on how QAnon supporters may react.

A year after it became clear that COVID-19 was becoming a pandemic, there is still no cure, but doctors have several innovative treatments. Some are keeping patients out of the hospital entirely.

Some do so of their own accord, using airport amenities to meet their basic needs. Others, however, would rather be anywhere else – and find themselves at the mercy of bureaucratic wrangling.