Few of us will forget the sense of euphoria we felt after receiving the second dose of the COVID-19 vaccine (or the only dose, for those who received the one-shot vaccine). It felt like a gateway back to the things we all once took for granted, like dining with friends in restaurants, birthday parties and hugs. Perhaps most importantly, vaccination status became a symbol of freedom from masks, as mask mandates were triumphantly lifted across the U.S. and businesses posted signs saying fully vaccinated people were welcome to enter mask free.
But as each day brings worse news about the spread of the delta variant, many of us have been asking the obvious question: Should we still be wearing masks indoors in public? According to the World Health Organization, as of late June, the answer is yes. Then in mid-July, Los Angeles County reinstated its requirement for masks in public for all residents, regardless of vaccination status. But the CDC has so far not followed suit.
Peter Chin-Hong, an infectious disease physician at the University of California, San Francisco, puts these seemingly contradictory positions into perspective. He notes how rare breakthrough cases are and dissects the latest research on how well vaccination protects against the delta variant – as well as what the findings might mean in different regions around the country.
Also today: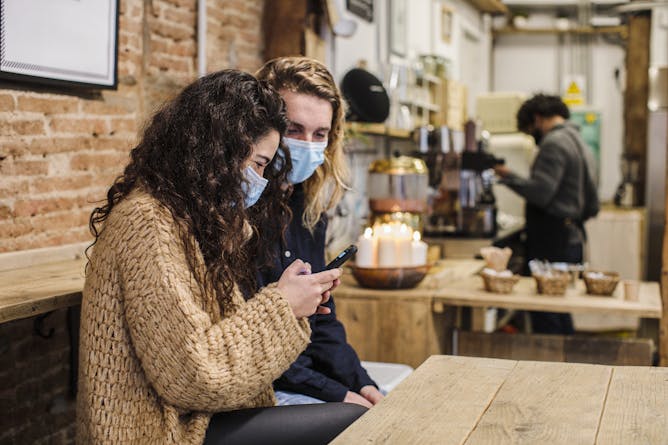 As Los Angeles County again mandates masking indoors -- even for the fully vaccinated -- local health officials in the U.S. are closely eyeing their own COVID-19 vaccination and infection rates.
Education
Health
If you ever felt nauseous, fatigued or disoriented after using your phone or computer, you may be experiencing a condition similar to motion sickness.

The US has split into "two Americas," one of the unvaccinated and one of the vaccinated. The differences in deaths and hospitalizations between the two populations are striking.
Environment + Energy
Science + Technology
Multiple factors determined whether or not individual Americans adopted COVID-19 safety measures, according to statistical analysis of public opinion data.

In track and field, it's a common belief that middle lanes are the fastest. But according to the data, middle lanes aren't better, and in the 200-meter sprint, outside lanes might even be faster.

It's difficult to tell a shipwreck from a natural feature on the ocean floor in a scan taken from a plane or ship. This project used deep learning to get it right 92% of the time.
Politics + Society
Trending on site
A task force of polling experts found surveys notably understated support for Donald Trump, both nationally and at the state level. Here's what may have gone wrong, according to a polling historian.

Nearly 60 years after a radiation-leaking reactor was removed from a US Army base on the Greenland ice sheet, the military is exploring portable nuclear reactors again.

Research suggests that reminding Americans – Democrats and Republicans – of their family history creates empathy for immigrants and more favorable views toward immigration.

---

Today's graphic