As Inauguration Day 2021 begins, the ceremony installing a new president will be very different from any in history. The pandemic means no crowds, few in-person attendees and lots of video presentations. The Capitol will also be locked down as never before, surrounded by tall fences and defended by more than 20,000 National Guard troops. The outgoing president is not expected to attend, which hasn't happened in more than a century. So why have an inauguration at all?
Anthropologist Dimitris Xygalatas from the University of Connecticut explains that even though Joe Biden would become president without a ceremony, rituals are how humans since time immemorial have signaled that events are important. The inauguration confers legitimacy and historical continuity on the new president and signals to the country and the world that the United States officially has a new leader, he explains.
Also today: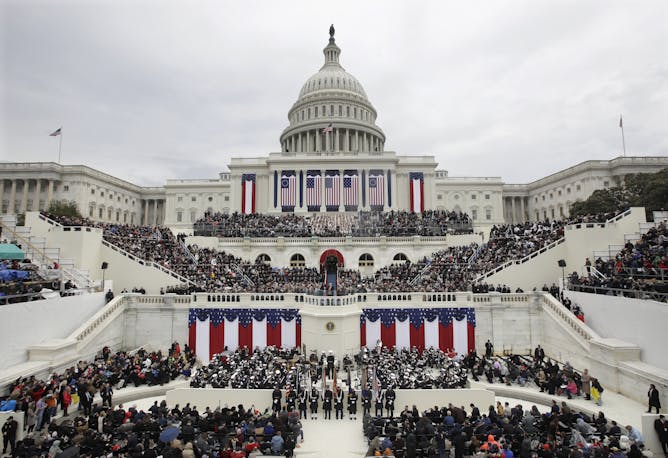 Formal ceremonies and rituals can trigger psychological signals that command people's attention and strengthen the perceived importance of those moments.
Arts + Culture
Economy + Business
Apple, Twitter and other tech companies were able to unilaterally shut down much of Trump's communication infrastructure. That's a lot of power.

Since 1953, the economy has only rarely been in recession when a Democrat was in the White House.
Politics + Society
A leaked database shows at least 10% of the far-right Oath Keepers militia is active police or military – people professionally trained in using weapons and conducting sophisticated operations.

The vice president may be second in line for the most powerful job in the nation, but there isn't necessarily a lot to do besides wait – unless the president wants another adviser.

Looming threats of more possible violence signal broader opposition to the Biden administration in what could become a loose campaign of domestic terrorism.
Science + Technology
Facial recognition, social media and location tracking give law enforcement a leg up in a monumental investigation.

Lifestyle medicine targets the root of chronic diseases like obesity, heart disease and diabetes. Experts explain why everyone should embrace these free prescriptions for good health.

For some sand-dwelling plants, stickiness is a defense tactic that keeps predators at bay.
Environment + Energy
Trending on Site
A scholar of religion explains a growing Christian movement that believes Trump was part of God's plan to bring heaven to Earth.

The Trump administration used this shortcut liberally in 2017, but its potential pitfalls and impact raise a question: Should Congress repeal it?

A biologist who studies the evolution of diseases explains what's different about the two new virus strains that have been found recently, and what that means for vaccine effectiveness.