Editor's note
Never have numbers seem so important. Daily death tolls are delivered by officials, dutifully reported by the media and consumed by the public – all eager for signs that the enemy might be in retreat.
As it is now with the coronavirus, so it was 50 years ago with the Vietnam War. History lecturer and veteran Shad Thielman explores the impact of counting the dead in such a consistent and clinical fashion. But turning human life into quantitative data isn't the only parallel he sees. Both the conflict and the pandemic interrupted "grieving as normal" in similar ways, leaving families to mourn in private and without public celebration.
Also today:
Matt Williams

General Assignments Editor
Top story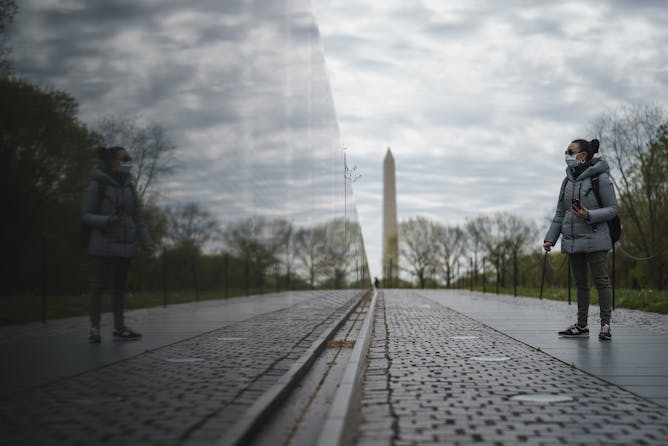 Unlike those who died during the Vietnam War, those who perish during the current pandemic are unlikely to receive a national memorial. Perhaps they should.
Health
Politics + Society
Federal authorities have input, but states reign supreme – unless they decide to let local governments make the call.

COVID-19 is spreading fast through not only the world's richest cities but also its poorest, ravaging slum areas where risk factors like overcrowding and poverty accelerate disease transmission.

Did members of Congress illegally sell stocks after getting inside information about the pandemic from federal officials? A former lawyer for the House says proving such cases is very difficult.
Arts + Culture
Economy + Business
Environment + Energy
Ethics + Religion
Science + Technology
The footprints of over 20 different prehistoric people, pressed into volcanic ash thousands of years ago in Tanzania, show possible evidence for sexual division of labor in this ancient community.

Women are underrepresented in technology fields, but especially so in cybersecurity. It's not just a matter of fairness. Women are better than men at key aspects of keeping the internet safe.

A high-tech twist on an old idea – running on springs – could give human-powered movement its biggest boost in more than a century.
From our international editions
The etymology of an epidemic.

Archaeologists have long studied diseases in past populations. They've explored the evolution of pathogens and how they interacted with humans.

Getting a good night's sleep during COVID-19 confinement can be challenging, but there are ways to get enough shut-eye.