Top headlines
Lead story
The dumpster fire that is the state of content moderation on X, formerly Twitter, is well documented. But even when social media platforms do a better job of weeding out hate speech and other harmful content, a key question remains: If social media platforms are today's public spaces, how is it that a handful of big tech companies get to decide what speech and behavior is acceptable?
The question is far from academic. The fate of nations hinges on the intersection of politics, misinformation, social media platforms and the billionaires who own them. UMass Amherst digital media scholars Ethan Zuckerman and Chand Rajendra-Nicolucci put the lens of history on the problem and see a potential solution from the early days of the internet, before content moderation was a job description.
[ Sign up for our weekly Global Economy & Business newsletter, with interesting perspectives from experts around the world. ]
Eric Smalley

Science + Technology Editor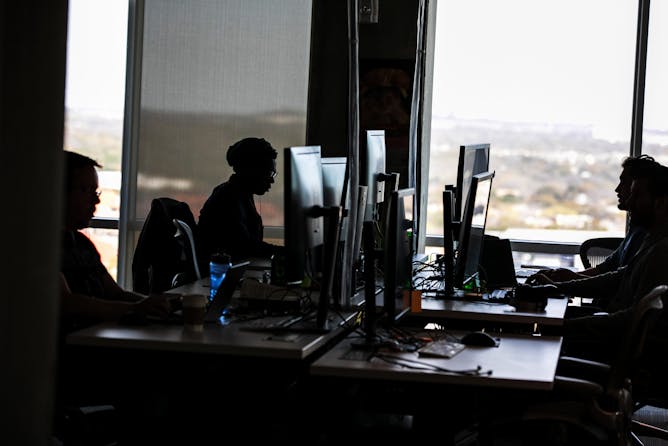 In the days of online bulletin board systems, community members decided what was acceptable. Reviving that approach to content moderation offers Big Tech a path to legitimacy as public spaces.
Politics + Society
The absence of a speaker of the House − a single individual but the linchpin in Congress − could produce a dangerous crisis in America's constitutional democracy.

Iran's long-term strategy includes eradicating Israel and driving a wedge between Israel and its regional neighbors. So far, the war seems to be accomplishing that goal.
International
Environment + Energy
An analysis of past UN conference presidencies suggests the 2023 summit's agenda would do more to accelerate the transition away from fossil fuels.

When the Rio Grande figures in US news reports, it's usually in relation to stories about immigration, drug trafficking or trade. But the river is also an important water source – and it's shrinking.
Ethics + Religion
Pope Francis' Synod on Synodality is attempting to move the church toward a more dialogue-based model of authority, a scholar of Catholicism explains.

An obscure Mexican engraver named José Guadalupe Posada created the satirical skull in the early 1900s and sold it for a penny. But after he died, it took on a life of its own.
Science + Technology