Editor's note
With social distancing guidelines likely to last for months – if not years – Americans will have to figure out new ways to conduct elections safely. That probably means mail-in ballots.
Constitutional law scholar Steven Mulroy lays out which states are all set, which are close to ready and which ones may need to change their rules or laws.
Also today:
Jeff Inglis

Politics + Society Editor
Top story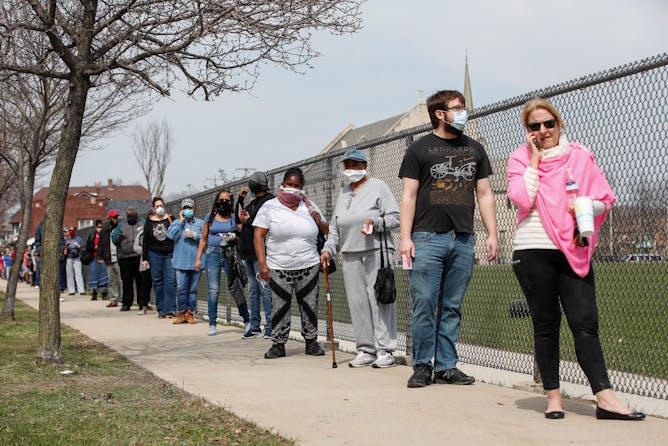 In many states, any voter can ask for an absentee ballot and mail it in – but in others, there are stricter rules about who can vote by mail.
Politics + Society
Even as Americans are all told to remain at home, millions are now unemployed and must scramble to figure out how to pay for that home.

Half of incarcerated individuals have either a chronic medical or a mental health condition. But social distancing and rigorous hygiene are unattainable for many US jails and prisons.

A historian of ancient Greece looks past a plague and explains how a massive government spending plan went badly awry 2,500 years ago.
Ethics + Religion
Science + Technology
Environment + Energy
April 22, 2020 is the 50th anniversary of Earth Day, which catalyzed action to protect the environment not just in the US but internationally.

We spend 90% of our lives indoors, and every building has its own indoor microbiome. Can we learn to manage them in ways that support helpful microbes and suppress harmful ones?
Arts + Culture
With dreaded, invisible germs lurking on surfaces and in people, our surroundings are seen as a minefield – and we end up dulling one of our most valuable senses.
Economy + Business
Nonprofits and concerned residents are teaming up with the local government to solve a daunting problem in a city with the nation's highest per-capita rate of homelessnesss.

The coronavirus pandemic is a stressful time for everyone. Here are some ways employers can help their employees through this crisis.
From our international editions
With no in-studio audiences, the Laff Box should be used more by comedy shows.

Public spaces are an integral part of everyday life for most Indians. The lockdown could make people appreciate them even more.

Pressure is mounting on fashion producers to stop using skins from Australian native animals. But Indigenous people are reviving traditions and there are ethical ways for trade to continue.