Sometimes it can feel like it's more respected to stubbornly hold on to one opinion than it is to thoughtfully shift gears. After all, no one wants to be called a wishy-washy flip-flopper. This preference for consistency got me wondering how people who've made a big deal about being against the COVID-19 vaccine might respond to an employer mandate that they get the shot.
UT Austin psychology professor Art Markman explains how people with different mindsets might respond to this kind of external nudge. Whether or not an outside push provides a way to save face when you change your mind, being open-minded about new information is key to making smart decisions in a changing world.
Also today: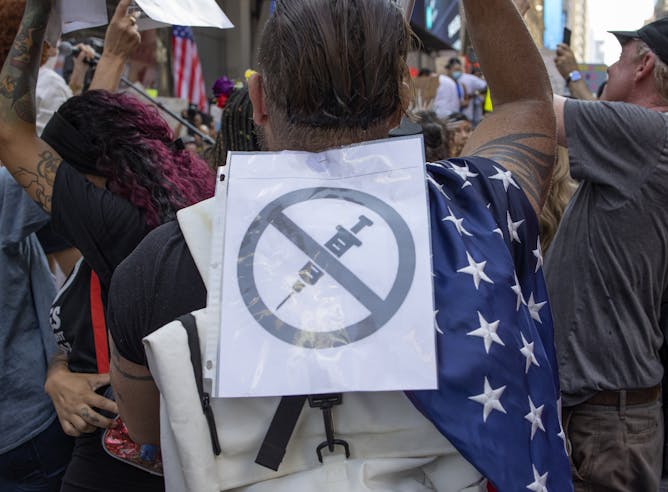 People tend to stick with their stated beliefs. But here's how external forces like vaccine mandates can push people to do something they don't want to do – and provide some face-saving cover.
Politics + Society
Environment + Energy
Economy + Business
Ethics + Religion
A scholar who has visited Guantanamo 11 times to observe legal proceedings in the 9/11 terrorism case explains why the conflict continues to delay the case going to trial.

Nahdlatul Ulama is the world's biggest Islamic organization, initiating a reform movement, which it is calling 'Humanitarian Islam.'
Education
A sports management scholar weighs in on whether college athletes can appear in their school's swag while promoting various products.

When students are allowed to bring personal items for show and tell, it can build their senses of self-worth, belonging and control. But poor kids often don't get that opportunity.
Trending on Site
New research suggests that fire from the sky in the form of a small asteroid annihilated a city near the Dead Sea 3,600 years ago.

Medications to treat COVID-19 are in no way a substitute for the vaccine. But under the right circumstances, some show great promise for helping patients.

There is value in observing legal precedent, but sometimes circumstances, logic or judges' views determine it's time to overturn it.

---

Today's graphic

From the story, Fall means more deer on the road: 4 ways time of day, month and year raise your risk of crashes