Pope Francis typically wears a white skull cap. For a few moments on Monday, however, it was covered up by different headgear: a feathered, beaded Indigenous headdress.
He was presented with the gift by a First Nations chief during Francis' visit to the former site of a boarding school for Indigenous children. During his weeklong trip to Canada, including to several Native communities, he apologized for Christians' role in the residential school system that forcibly assimilated children for decades – wounds that are still healing.
Brenda Child, a historian who has written extensively about the United States' own boarding schools for Native American children, and whose own grandparents attended them, explains the role religion played in the Canadian and American systems – and why some Native people felt the pope didn't deserve the honor of a headdress.
Also today: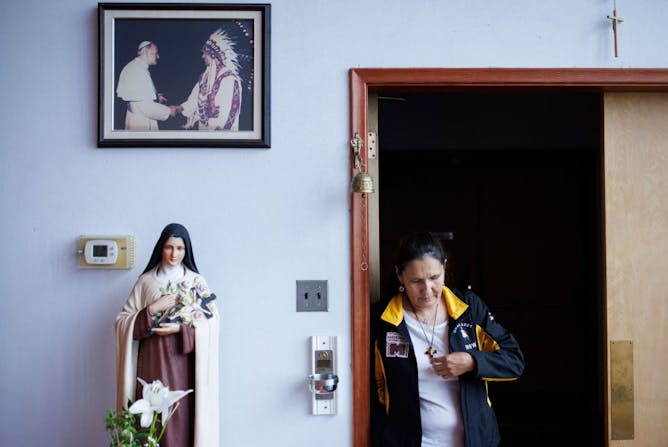 A historian of the residential schools explains how religion played a key role in assimilationist systems for Indigenous children in Canada and the United States.
Politics + Society
A doctrine embraced by some conservatives could be adopted by the US Supreme Court. And if they do, Americans' political power will be dramatically limited.

The UN has been working for 20 years to increase the number of female peacekeepers – but countries that give their troops to the UN are reluctant to put more women in active combat.

There's a new party in town – but it may not last long.
Environment + Energy
Science + Technology
Economy + Business
Health + Medicine
Podcast 🎙️
From our international editions