As Thanksgiving approaches, finding a turkey the right size for your household at a good price could be challenging. On top of inflation that has driven up grocery prices across the board, a nationwide outbreak of avian influenza, also known as bird flu, has led to the culling of more than 50 million turkeys and chickens this year in the U.S.
Holiday dinners aren't the only concern, as Iowa State University veterinary scientist Yuko Sato explains. While bird flu poses low risk to humans overall – only one person has tested positive for it in the U.S. during this outbreak – the virus is widely present in the wild birds that transmit it. So hunters need to take special precautions in handling game. And the disease can spill over to mammals, so no one should approach an animal that's acting ill. This outbreak is the latest evidence that human well-being is bound up in all kinds of ways with that of animals.
Also today:
Jennifer Weeks

Senior Environment + Energy Editor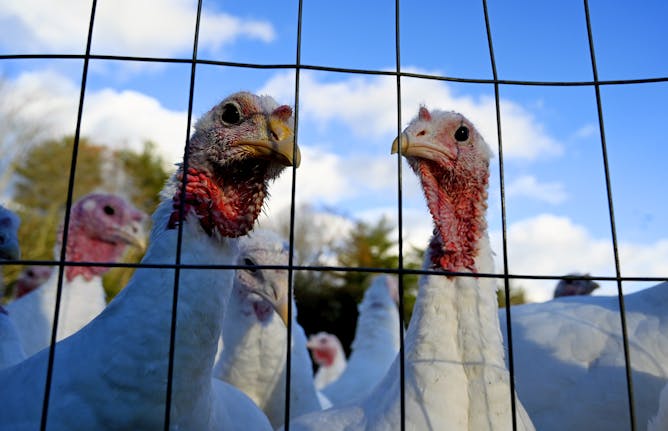 Hunters are warned to take precautions handling wild birds, and the virus can spill over to non-avian species, so no one should approach wild animals that are appear ill.
Environment + Energy
Science + Technology
After its fourth delay, the Artemis 1 launch is now scheduled for Nov. 16, 2022. NASA has a history of missing launch deadlines, but the private sector is slowly making launches more reliable.

How does flowing water make electricity? An engineer explains hydroelectric generation.
Education
Ethics + Religion
Economy + Business
Health + Medicine
Politics + Society
Reader Comments 💬
"In the U.S., Native nations are fundamentally governments. The Federal government has long recognized a Nation to Nation relationship with Indian tribes, and as a result they wield broad authority within their territories and reservations, have the authority to engage in economic development and taxation, and have been elevated to the level of states in a number of pieces of major Federal legislation pertaining to the environment and natural resources. "

– Author Torivio Fodder on the story What makes someone Indigenous?

About The Conversation:

We're a nonprofit news organization dedicated to helping academic experts share ideas with the public. We can give away our articles thanks to the help of foundations, universities and readers like you.