Despite the old adage, money has always bought happiness. But, according to a new study by psychologist Jean Twenge, today it buys a lot more than it used to.
She found that the happiness gap between those with higher and lower incomes has widened steadily since the 1970s, mostly because those with less money aren't as happy as they used to be. That's why an income guarantee, which is currently being tested in Newark, New Jersey, and Stockton, California, could not only help people make a better living but make them happier too.
Also today:
Nick Lehr

Arts + Culture Editor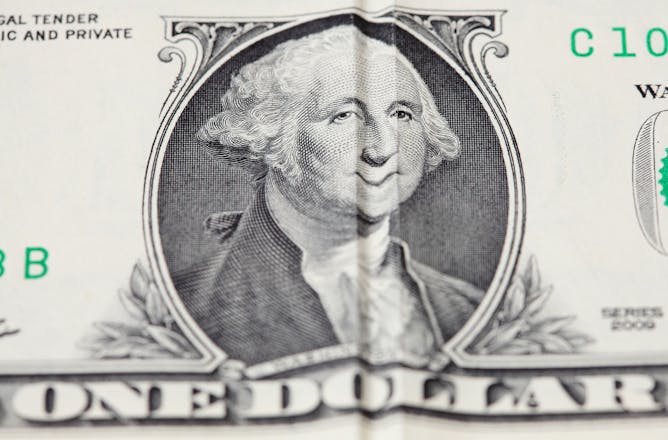 Americans with lower incomes today are less happy than they were 40 years ago. Could the growing class divide be to blame?
Ethics + Religion
Economy + Business
Politics + Society
The recent vote in Russia supporting Vladimir Putin's constitutional reforms was pure theater and obscures growing friction between state and society.

For many Americans, law and order has long been as much a private matter as something for the government to handle.
Science + Technology
Inventors in states with more socially liberal laws on the books end up with more diverse collaborators – and more higher-impact patents.

Nanoparticles dressed up in cell membranes snag SARS-CoV-2 virus particles before they reach human cells.
Education
Health
More than 200 scientists wrote to the WHO, warning about aerosol transmission of the coronavirus. The WHO has since acknowledged the evidence but hasn't change its advice yet.

When news reports tout a drug, people get interested, even if the benefits are unproven. Patient hopes, requests and demands can easily turn into real prescriptions in their doctor's office.
Trending on site
COVID-19 has again demonstrated the health inequities that exist between African Americans and whites.

As if the symptoms of COVID-19 were not disturbing enough, physicians have noted a rare neurological condition that emerges during some severe cases of this viral infection.

Tens of millions of Americans who have been telecommuting during the pandemic may have to head back to the office as governors lift stay-at-home orders. Here's what you can do if you'd rather not.