Somalia has been in a near-constant state of food insecurity for more than three decades, leading to almost annual pleas from aid agencies for support. This year is no different. Agriculture experts Paul Porter, Hussein Haji and Ryan Gavin unpack the factors behind the country's food shortages. These range from a combination of stagnant crop production and a rapidly increasing population, to extreme weather events, conflict and bad governance. But there is a way forward. The authors provide insights based on 35 years of working in the field.
The perfect storm hit the South African documentary film My Octopus Teacher on Oscars night. The tender – and sentimental – wildlife documentary about a man and his relationship with an octopus tapped into the zeitgeist in unexpected ways. Contributing factors included a series of lockdowns that sent millions more people in search of heart-warming things to watch on streaming giants like Netflix, and the intimacy of a low budget, simply made movie. The global attention is certain to give the local film industry a boost. But film lecturers Liani Maasdorp and Ian-Malcolm Rijsdijk warn that not all South African film-makers can afford the luxuries of privileged access, time and equipment that made the documentary possible.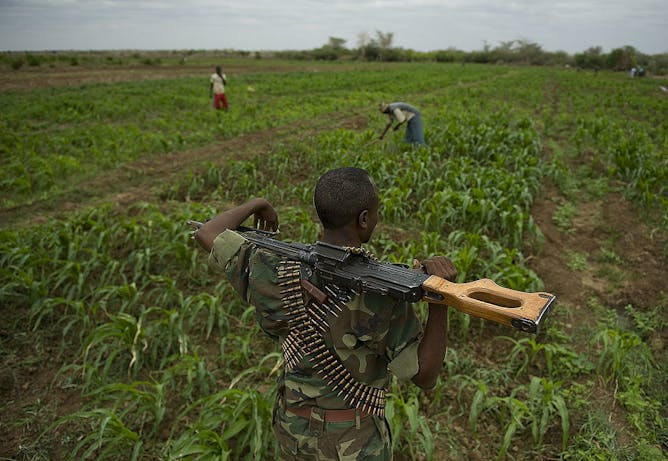 For decades Somalia has been in a near-constant state of food insecurity. This is due to a combination of stagnant crop production, a rapidly increasing population and political unrest.
A tide of 'the feels' buoyed the underdog documentary to an Oscar win – but the local industry will need to focus on where international gains are most needed.
Politics
| | | |
| --- | --- | --- |
| Déby's legacy is one of violent beginnings and fake democratic shows | | The socio-economic and political factors that keep conventional energy out of reach of the poor can do the same with renewable energy. |
Education
| | | |
| --- | --- | --- |
| Research shows that grit is a strong predictor of reading achievement. This suggests that socio-emotional skills are important for student achievement, even in high-poverty contexts. | | Far too often it is still an education for some and not for everybody. |
From our international editions
| | | |
| --- | --- | --- |
| Three scholars examine President Biden's rhetoric, the symbolism and the several ambitious plans he proposed in his first address to Congress. | | Despite clear concerns about the global impact of problem betting, more governments are making it easier to access |