The nation's eyes are on Joe Biden, the presumptive Democratic presidential nominee, as he decides whom to name as his vice presidential candidate. Biden has also hinted that he might name members of his Cabinet before the election.
Political scientists Christopher Devine and Kyle Kopko wrote the book on the effect a candidate's running mate has on a campaign's success. They explain what matters in a running mate – and what doesn't – and whether it's even wise to make Cabinet decisions so soon.
Also today: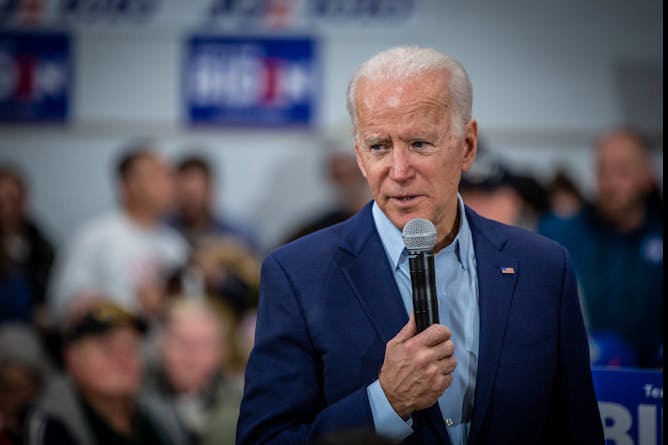 Vice presidential picks don't have much direct effect on campaigns, but can give voters insight on a candidate's judgment and leadership ability. Early Cabinet selections are likely to be similar.
Education
Science + Technology
A team of physicists, virologists and computer scientists are seeking to develop a coronavirus diagnostic tool that could deliver rapid results.

Do mutations that alter the addition of sugars to the coat of the virus affect the severity of the disease?

One anthropologist found 1,072 similar words for 'mom' and 'dad' in the world's languages. It turns out a mix of biology, culture and encouragement from parents explains this phenomenon.
Economy + Business
While some authoritarian governments have won early praise, research shows that democratic countries with a balance of power between central and regional bodies are best able to succeed.

Reliable data on charitable giving is hard to come by. But based on the information available, very rich people are at least as generous as everyone else.

Coronavirus-related restrictions are likely to slow but not stop the coffee business in Rwanda, which produces specialty beans sold worldwide.
Ethics + Religion
Politics + Society
Everything is political. And that includes typefaces, write two scholars who found that people see one group of typeface styles as liberal, another group of styles as conservative.
Most read on site
Researchers from Oregon Health and Science University found that variations in genes that code for parts of the cellular alarm system might play a role in how well people fight off COVID-19.

American teens are much more perceptive about their political world than they are given credit for, a recent study shows.

As most of the world early awaits a vaccine for COVID-19, a smaller group of people scoffs. They could spell real trouble in the effort to build widespread immunity.