For more than a week, editors at The Conversation have been discussing how to cover the most recent outbreak of conflict between Israelis and Palestinians. What could we publish that would help readers understand why this long-unresolved struggle had once again erupted and had become so fierce, so fast?
UCLA historian James Gelvin has literally written the book – reprinted several times – on the history of Israeli-Palestinian conflict. So, as rockets and missiles flew and people fought in the streets, we asked Gelvin what he could say that would be fresh and revealing. His response: What's happening now is Israel's Black Lives Matter moment. "As in the United States," he writes, "a brutalized minority group, facing systemic racism and discriminatory acts, has taken to the streets. And, as in the United States, the only way out starts with serious soul-searching on the part of the majority."
Also today:
Naomi Schalit

Senior Editor, Politics + Society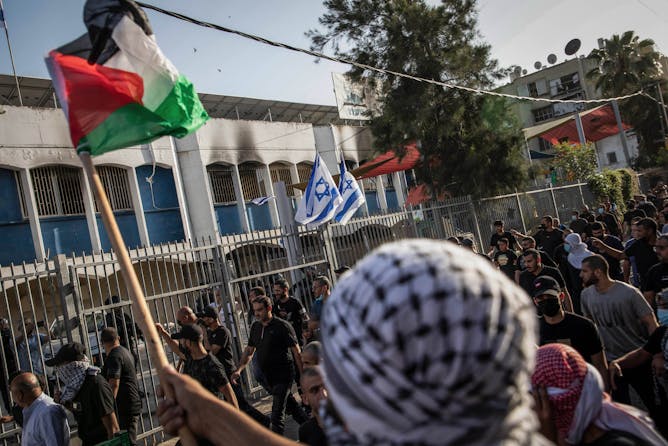 The fighting between Israelis and Palestinians grew quickly and ferociously after being ignited by a conflict in an Arab part of Jerusalem. Why did things go so bad so quickly?
Economy + Business
Governments and companies are using incentives in hopes of getting more Americans to get a COVID-19 shot. A behavioral economist explains how they work.

The gun group violates four key legal and management principles, a scholar of nonprofits explains.
Arts + Culture
Released at the height of the Vietnam War, Marvin Gaye's hit-heavy album explored themes of race, environmentalism and conflict. It also marked a new direction for the Motown record label.

If you've ever cringed after hearing a recording of yourself, you're not alone.
Ethics + Religion
Health
Politics + Society
Science + Technology
Chances are small that space junk will destroy property or harm a person, and existing space law could deal with such an event. But current law doesn't address the bigger problem of space pollution.

Scientists are working on ways to make lots of energy by converting matter into energy. The trick is keeping the process under control. One possibility is nuclear fusion – the Sun's power source.
Education
Trending on site
A scholar of the Rwandan genocide argues that while a genocide and a pandemic are very different, the experiences of Rwanda's survivors may provide lessons on how to heal from pandemic trauma.

The subject of a new Netflix miniseries, Halston once ruled over New York's fashion world. But the designer with a devil-may-care approach to his business dealings attempted too much, too quickly.

Vaccination rates for COVID-19 have been lower than desired for herd immunity, or when enough people become immune for new infections to stop. What will life look like without it?

---

Today's graphic