Feature Story
The Ontario Government has given Maggie an Ultimatum: the teen who has a disability can lose her funding or her freedom
Editor's Note:
Last Friday, the following article appeared on the front page of the Toronto Star. Maggie's story underscores the basic human right to decide, and direct one's life. It describes the dangers of guardianship, both in terms of the taking away of people's rights, and the false security it holds. Finally, it describes supports for decision making and the need for those supports to be recognized and respected.
We at Community Living Ontario have been working with the Ministry of Health, for two and a half years, to try and bring equity to the Family Managed Home Care program, so that Maggie and thousands of others, are not denied access to this resource, based on disability. This work continues.
We have also started a supported decision-making pilot project with four of our local associations, which will demonstrate to government and other institutions, how supported decision-making can work to make sure people's wishes are heard, honoured and protected. Stay tuned to future editions of Update Friday, for more information about this important work.
Maggie, who will turn 19 this weekend, has Angelman syndrome, a genetic disorder that causes significant physical and intellectual disabilities. She's non-verbal, developmentally delayed and requires nearly constant care. She's also a bubbly teenager with an active life.
Her parents, Erin Sheldon and Rob Hickey recently incorporated a non-profit Microboard, a group of five people who commit to maintaining a relationship with Maggie, "respond to the initiatives she expresses" and advocate on her behalf. The Microboard, which includes Maggie's parents, her longtime educational assistant, the executive director of the local Community Living chapter and another mother of a child with Angelman syndrome, also employs Maggie's caregivers and manages her finances.
But Ontario's Ministry of Health has told Maggie's parents they will not recognize Maggie's Microboard and she will lose some of the funding she currently receives unless she has a guardian of property.
The ministry has taken this position despite years of lobbying against the policy by advocates and calls for reform from legal analysts.
*If you are unable to access the full article using the link below, try this link instead
Community Living Ontario Updates
2 Weeks Left to Register for CLO's Inspiring Possibilities AGM & Conference 2022!
Less than 2 weeks left to register for Community Living Ontario's Inspiring Possibilities AGM & Conference! Registration will close on August 31, 2022!
You won't want to miss out on the excellent lineup of presenters this year, including our panel discussion line up for Friday morning featuring – Alison McLean, Dwayne Milley, Joe Persaud, Sherri-Ann Edmunds, and Dr. Claudine Cousins.
This session will address why and how Equity, Diversity, and Inclusion must be a Core Value within our organizations and a Core Competency for all of us as employees.
Get your tickets today!
Don't delay! Register now for our Inspiring Possibilities AGM & Conference 2022.
Siblings: Citizens with a Cause is a group of sibling advocates with a vision for a more inclusive Canada. Our team of siblings have important advocacy roles at Community Living Ontario, as they ensure that siblings of those who have disabilities are heard and represented in all settings. Their daily interactions with their siblings allow them to see first-hand the exclusion their siblings face, which is their motivation to advocate for a more inclusive Canada. This supportive network of youth share personal stories, resources, and are a helping hand to anyone who would like it through advocacy initiatives such as their Siblings meetups. At these monthly webinars, youth and allies come together to discuss navigating life in Canada.
Siblings: Citizens with a Cause is now recruiting new siblings to continue its advocacy efforts and expand its youth network!
Now's your chance to get involved!
If you have questions or wish to apply, contact:
Agnes Palaganas, CLO's Youth and Community Engagement Coordinator, at apalaganas@communitylivingontario.ca
or
Payal Khazanchi, Director of Inclusion Initiatives at pkhazanchi@communitylivingontario.ca
Join the Youth Advisory Committee (YAC)!
The Re:Action4Inclusion Youth Advisory Committee (YAC) is a provincial movement of youth from across Ontario that has steadily advocated for social change for over a decade. This movement is driven and empowered by youth leaders, with and without a disability, who see the importance of the basic human need to belong. This provincial network of youth is committed to overcoming the feelings of isolation and exclusion youth feel by embracing a culture of equity and inclusion.
Interested in getting involved with the Youth Advisory Committee? Want to work with a team of like-minded people to make a difference? Apply here!
Want to learn more? Click here.
And if you still have questions, contact:
Agnes Palaganas, CLO's Youth and Community Engagement Coordinator, at apalaganas@communitylivingontario.ca
or
Nicole Canzoneri, Chair of YAC 2021–2022, at nicolecanzoneri@gmail.com
We are happy to announce that we have added a Friday session, Journey to Belonging: Choice and Inclusion, to the conference! This session will be led by Laura Summers, the Director, Community and Developmental Services Policy Branch at the Ministry of Children, Community and Social Services.
The Ministry of Children, Community and Social Services is working on the commitments in Journey to Belonging: Choice and Inclusion, the government's plan for developmental services reform. Laura will talk about some early successes since the plan was released, including an education and awareness campaign, and share updates about work ahead over the coming months.
The Community Services Benefits Trust is a non-profit employee benefits trust that was formed in January 2002 by a group of not-for-profit community service organizations. Working together, these organizations created the Trust to provide fully insured, locally accessible employee benefits to social service organizations. Administered by GroupHEALTH Benefit Solutions, the CSBT program is delivered through a national network of Advisor Partners. Local representation allows agencies to build relationships with the Advisor Partners, providing solutions that meet the needs of each organization. The Trust has grown to over 1000 agencies across Canada representing over 32,000 employees (plus their dependents). https://www.csbt.ca/
This new Whitby cafe is creating 'life-changing' opportunities for people with disabilities
Editor's note: While this story is interesting and appears positive for people with an intellectual disability, we have learned that the cost of this 150-200 hours of training is $5,500 + HST which exceeds most people's Passport allocation for an entire year. Once the training is completed and the Passport funds are exhausted there is no guarantee of employment. The nature of this training program brings to mind the failures of sheltered workshops and why they no longer exist, in these settings, pre-employment training became lifelong.
In today's environment of labour shortage employers are willing to hire and provide wages while training. What we need are job coaches that can support people in real jobs.
Whitby's newest cafe is more than a place to get coffee and baked goods — it's a total game-changer for adults with disabilities who say they have struggled with barriers to finding a job.
Melly's Workplace recently launched as a registered charity that offers in-depth employment training for adults with intellectual and developmental disabilities.
Ontario residents with disabilities face homelessness or worse, say advocates as some rent subsidies expiring
When Windsor resident Sarah Bondy learned earlier this year that some Ontario government-funded rent subsidy programs were set to expire, she thought about the catastrophic impact the cuts would have on people with disabilities who rely on them.
Having somewhere affordable to live is something a lot of people take for granted, but for people with disabilities, "it gives us independence, it gives us a home to call our own," said Bondy, who lives with a disabling medical condition that leaves her dependent on rent subsidies.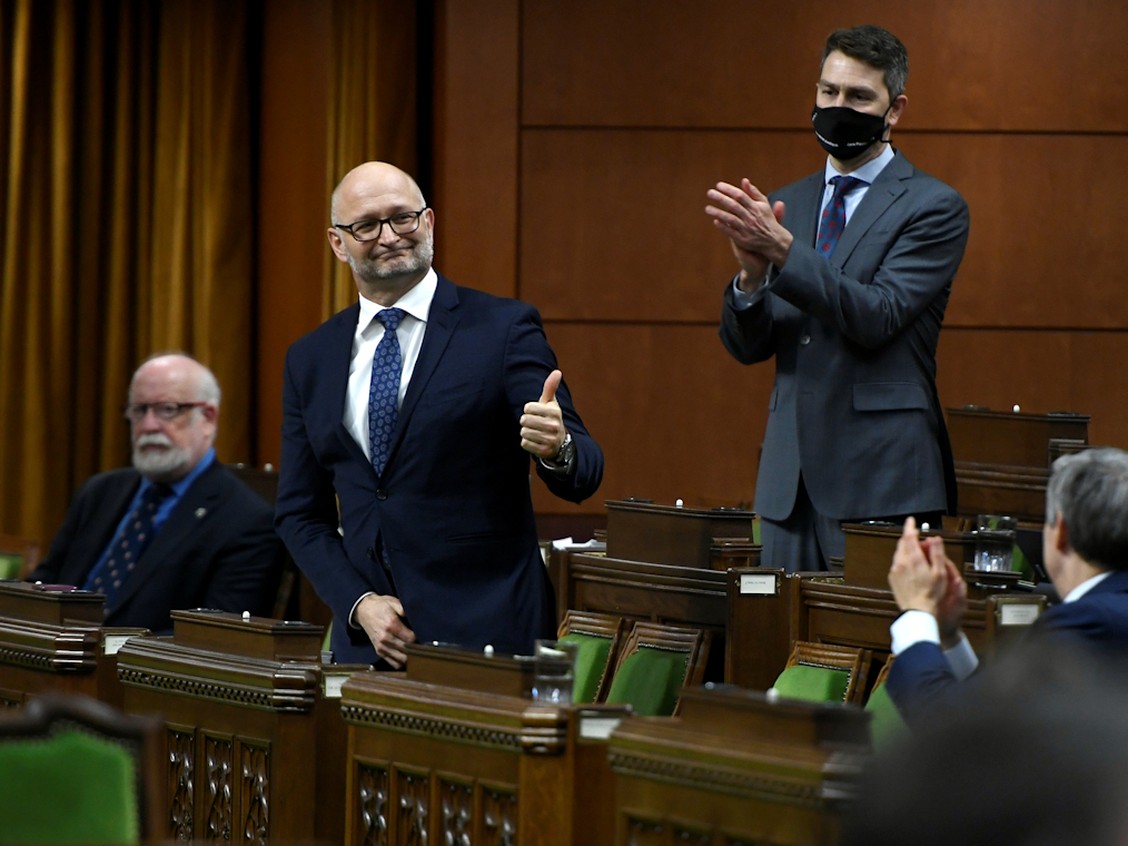 Ontario hospital staff appear to pressure a patient to opt for euthanasia in new secretly recorded audio
This week, a feature by the Associated Press quoted secretly recorded audio from a London, Ont. hospital that appeared to show a medical ethicist raising the subject of euthanasia with a disabled patient, Roger Foley, after reminding him that he was costing the system "north of $1,500 a day."
Foley told the AP that he had never previously expressed a desire for medically assisted death, and began recording the staff after they kept mentioning it to see if he had "an interest."
The Autistic People of Color Fund: 2022 Community Priorities Policy Report
Established in June 2018 as the Fund for Community Reparations for Autistic People of Color's Interdependence, Survival, and Empowerment, the Autistic People of Color Fund1 is a community-led organization committed to mutual aid, redistributive justice, solidarity economics, and community building.
Join Team Inspiring Possibilities at the Starting Line this October!
Run with us!
Join Team Inspiring Possibilities as we run in the TCS Toronto Waterfront Marathon this autumn!
Run with us in person on October 16th, or run your virtual race between September 16th and October 16th.
All funds raised will go directly to the Anne Stafford Light Up the Future Bursary Fund, assisting people across Ontario who have an intellectual disability to pursue an educational or personal interest course.
Join our team by clicking the following referral link and searching for Community Living Ontario. CLO receives a $5 donation for every referral so please share this link far and wide with anyone interested in running:
https://raceroster.com/34025?aff=HGZ4Y
If you are not able to run but would like to make a donation in support, click the following link. Please share this link with anyone interested in supporting our fund:
For more information on ways you can be involved in our effort, please contact Eon Sinclair at esinclair@communitylivingontario.ca.
Thank you. See you at the starting line!
Unable to Attend Conference? Register Virtually for the AGM!
Register now for the Conference AGM virtually!
If you are unable to attend the CLO Conference, but would like to attend the Annual General Meeting virtually only on Wednesday, September 14th at 6:30pm, please register here!
Awake Labs uses wearable technology to help manage stress and strong emotions. Their platform is being used by more than 30 agencies across Ontario and almost 100 self-advocates and families.
The platform includes:
a mobile app that alerts caregivers when strong emotions are increasing; and

a dashboard for managers and clinicians to review data, check-in with their teams, and adjust strategies.
Agencies, self-advocates, and families have reported many benefits, including:
This platform is an eligible expense of the Passport program under the April 2020 Addendum.
For more information, please contact Paul Fijal at paul@awakelabs.com or visit https://awakelabs.com/
MedProDirect is a 100% Canadian owned distributor of a complete line of high quality incontinence products, many of which are exclusive to them. As Incontinence Specialists, MedProDirect offers exceptional service implementing and supporting an effective continence care program. This sets them apart from the competition and allows them to focus their resources on this critical and costly segment of health care in order to better serve their customers.
MedProDirect will also help with the government funding application process of the Mandatory Special Necessities Benefit and help to ensure maximum return. Their team in customer care is proactively involved in communicating with the caseworkers in all ODSP offices province wide to help ensure funding is provided.
Ontario Caregiver Organization Capacity-Building Family Support Network Grants — Deadline August 29th
The Ontario Caregiver Organization provides grants to Family Support Networks in Ontario—peer-based groups for family members and other unpaid caregivers who are supporting adults with developmental disabilities.
Funded by the Ministry of Children, Community and Social Services, the grant program aims to make it easier for families and caregivers of adults with developmental disabilities to find peer support in their community, share information, and build connections for their own wellbeing and the people they care for. These capacity-building grants are intended to support, strengthen and expand Family Support Networks across the province.
Today, Duncan Phelps enjoys his job in food safety and serving the people where he works full-time. It's been a great place to use his skills after graduating from the Culinary stream of the Community Integration through Co-operative Education (C.I.C.E.) program at St. Clair College in the Windsor region. With a love of public speaking and his sights set on a career in travel and tourism, 24-year-old Duncan is confident about achieving his goals. But it was at a Community Living Ontario youth conference 10 years ago that Duncan first met other youth self-advocates and discovered the power of his voice.
Your donations to the Community Living Ontario Foundation allow us to offer crucial initiatives like Reaction4Inclusion, where motivated youth like Duncan can connect, share, and learn from each other about how to create more inclusive spaces and platforms for everyone. Your contributions provide youth who have an intellectual disability and their families with numerous opportunities to discover and pursue dreams that will lead to fulfilling lives.
Click the link below to continue reading Duncan's story, and consider making a donation today!
Sponsorship Disclaimer
Community Living Ontario maintains independence over the editorial content of its communications. While sponsorships assist with our communication efforts, sponsors have no editorial input or influence on the information itself.