When you think about what's driving climate change, do you picture smokestacks and auto tailpipes? Well, you should also be visualizing farms and fields.
A new study from atmospheric scientists Xiaoming Xu and Atul Jain shines a light on the role of food production in global warming. The two scholars combined modeling and databases to create a tool for estimating greenhouse gas emissions from every phase of food production – from planting crops to managing livestock manure. They found that food production accounts for over one-third of human-made greenhouse gas emissions and spotlight some of the biggest contributors, such as beef and rice. Their research could provide valuable insights on how to target policy toward lower-carbon farming practices and diets.
Also today:
Jennifer Weeks

Senior Environment + Energy Editor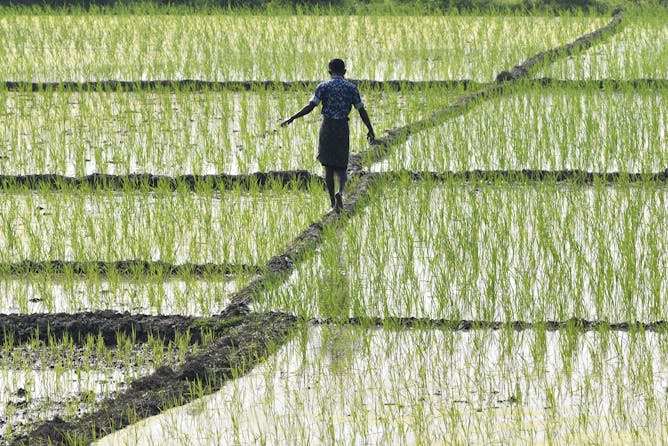 A new study provides a detailed way to calculate the climate impact of food production, which could lead to more sustainable farming policies and methods.
Economy + Business
Environment + Energy
Politics + Society
The dangerous situation faced by Afghans who want to flee, but can't, shows how unwilling or unprepared the US and other countries are to deal with refugees.
Ethics + Religion
Education
Mexican Americans who have more formal education than their parents are much less likely to have Type 2 diabetes, new research finds.

Microschools might be an attractive alternative to regular public schools that are wrestling with the pandemic, but they are mostly out of reach for low-income students, a researcher says.
Arts + Culture
Art is a risky investment, with estimated long-run returns, on average, below stocks. But investing in artworks may provide diversification to an investment portfolio, as well as enjoyment.
Science + Technology
From our international editions
Facebook is adamant its new "smart glasses" won't be a privacy nightmare. But it is clearly bidding to normalise the use of wearable tech. And if video Ray-Bans go mainstream, what comes next?

Segregation and other measures being introduced by the Taliban's hardline new government are being greeted with widespread protests, many of them led by women.

The NBA Africa is making a play for expansion. Where does Barack Obama fit in?

---

Today's graphic

From the story, 18 months of the COVID-19 pandemic – a retrospective in 7 charts