Just as friends and loved ones were gathering to celebrate Thanksgiving and kick off the holiday season, a very unwelcome visitor showed up on the scene: omicron, a new variant of the virus that causes COVID-19. Scientists in South Africa reported the coronavirus variant early last week, and the World Health Organization named it a "variant of concern" days later. Cases of the new lineage have now surfaced in more than a dozen other countries.
Though the public has grown accustomed to hearing about new coronavirus variants emerging from all corners of the world, omicron has researchers particularly on edge. Suresh V. Kuchipudi, a virologist and expert in emerging infectious diseases from Penn State, explains the biology behind the variant's startling array of spike protein mutations and what that might mean for its ability to spread and dodge the vaccines based on that protein. Kuchipudi also writes about how the delta variant dominated the globe and what the research community has learned from its rapid circulation.
Also today: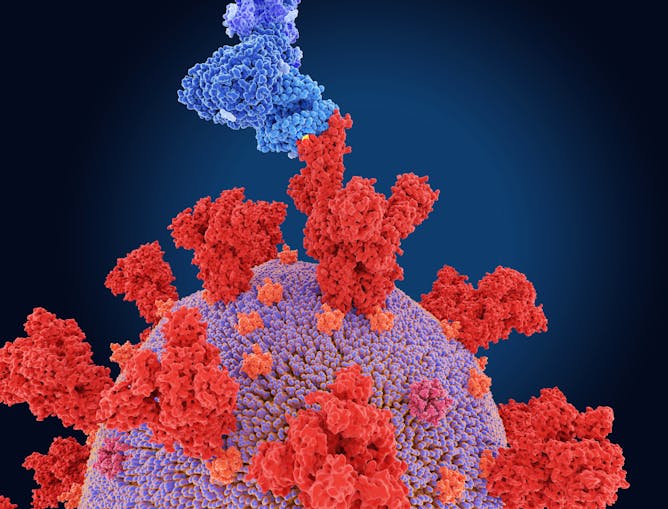 It's too early to say whether the newly identified omicron variant is going to overtake delta. But particular mutations in the new strain have researchers deeply concerned.
Politics + Society
Critical race theory is often distorted by GOP politicians and pundits to stir up its Trump base. But CRT is needed more, not less, argues one legal scholar, to explain American racial disparities.

Experts help explain the context around the murder trial and convictions of Greg McMichael, Travis McMichael and William Bryan.
Economy + Business
Little comprehensive research about what the charitable accounts, known as DAFs, are supporting has been conducted until now.

A record number of Americans are quitting their jobs. But before you opt to join them, you should consider the risks and costs.
Environment + Energy
Ethics + Religion
Should countries require COVID-19 vaccination for entry while vaccines remain globally scarce?

The Jewish festival of Hanukkah, which in 2021 began on Nov. 28, focuses on the story of the Maccabees. But women are also heroes in stories about that era, including Judith and Hannah.