It's the first day of fall here in the Northern Hemisphere! For anyone driving through farm country or woods, that means it's time to be extra vigilant for deer on the road. Deer cause over 1 million accidents in the U.S. every year. Tom Langen studies animal behavior at Clarkson University and has some tips for staying safe. It turns out that time of day, week and month, as well as the season, can all significantly raise your risk of a crash.
And Tufts' Laura Corlin unpacks the World Health Organization's newly released air quality standards and what scientists now know about the high health risks from air pollution.
Also today:
Stacy Morford

Environment + Climate Editor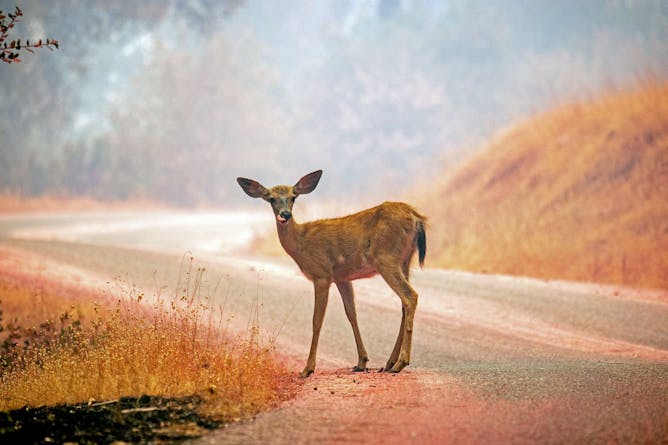 Avoiding hitting deer on the road is as much about when you drive as where. An animal behavior expert explains why.
Environment + Energy
Politics + Society
Economy + Business
Republicans are refusing to support an increase in the debt ceiling, but not doing so risks an unprecedented default. An economist explains why it's time to get rid of the debt limit once and for all.

The announcement didn't use the word 'divest.' A legal scholar explains why that shouldn't matter.
Health
Since the coronaviurs first began spreading around the globe, people have debated how effective masks are at preventing COVID-19. A year and a half in, what does the evidence show?

Carrying a pregnancy to term is riskier than having an abortion, especially for non-Hispanic Black women.

Current HIV criminal laws increase HIV stigma and discrimination against marginalized people – and negatively affect public health.
Ethics + Religion
The Satanic Temple, a nontheistic group, is invoking the Religious Freedom Restoration Act to challenge Texas' new anti-abortion law.
Science + Technology
Tesla crashes and the investigations that follow generate a lot of headlines, but the dangers of automotive automation are industrywide. The common denominator is the human behind the wheel.

Have you ever bought an item and then just not gotten around to using it because the time never felt right? New studies suggest an explanation for what researchers call nonconsumption.
Education
Colleges and universities are using therapy dogs as a low-cost way to improve their students' mental health.

In a webinar hosted by The Conversation, "Women's Transformative Power in Higher Education and Beyond," current leaders discussed how their predecessors have shaped higher education.