A powerful storm system triggered flash flooding across the St. Louis area and in the Appalachian Mountains this week, turning creeks into rivers that flooded basements and trashed homes. People living near waterways may have seen flood risk maps or hazard ratings for the area before, but just knowing your home faces a flood risk of 7 on a scale of 10 doesn't always convey the damage potential.
Many real estate websites now offer flood and wildfire risk ratings for each property as disaster risks worsen in many areas. But the ratings aren't helping enough, a team of emergency management experts in Arizona and Florida writes. The problem isn't necessarily that homebuyers are ignoring the numbers, "it's that the way risk information is being presented ignores long-established lessons from behavioral science," they write. They're proposing a different kind of rating that gets closer to something people instinctively relate to: their bank accounts.
Also today:
Stacy Morford

Environment + Climate Editor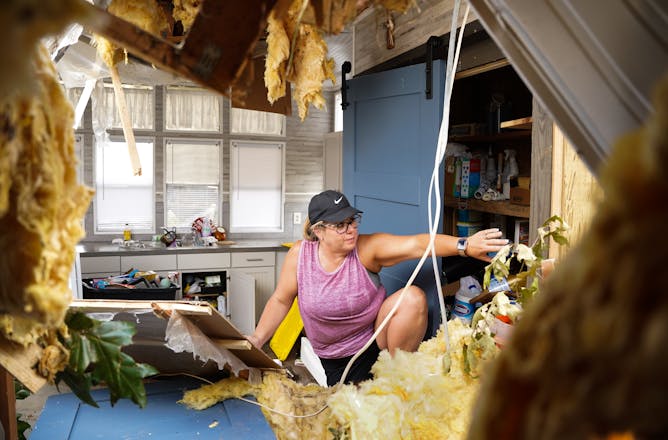 Telling people they have a flood risk rating of 10 is less powerful than explaining how much they're likely to pay to deal with flooding over the next five years.
Economy + Business
The Federal Reserve hiked interest rates by an additional three-quarters of a percentage point. An economist explains what this means for the economy.

These donors can experience an emotional release by channeling their feelings into something they consider positive.
Ethics + Religion
Saint Sophia Cathedral was built under the reign of Grand Prince Yaroslav, whose father, Volodymyr, converted the region to Christianity.
Politics + Society
A UK plan to move asylum seekers on its shores to Rwanda has been met with stiff opposition from human rights organizations. But the UK persists, and Rwanda is all too willing.

Grand juries are meeting in Georgia and Washington, D.C., as part of investigations into attempts to overturn the 2020 presidential election. How do they work?

Unlike in most countries, US Supreme Court justices enjoy life tenure. Some legal scholars believe that centuries-old custom, meant to protect judicial independence, no longer serves the public.
Environment + Energy
Education
A scholar of literature sees striking parallels between contemporary book bans in the US and those that took place in South Africa during apartheid.

Female statistics students had higher final exam grades than their male peers, even though they had less confidence in their statistics abilities at the start of the semester.