If you're a consumer, Black Friday has traditionally meant deep discounts on TVs, chaotic scenes in packed stores and, quite possibly, a post-Thanksgiving food coma. But if you're a retailer, the unofficial start of the holiday shopping season boils down to a simple question: Will shoppers buy enough of our stuff over the coming weeks to put us "in the black"?
The answer, according to Michigan State University's Ayalla A. Ruvio and Forrest Morgeson, may be "no." The marketing professors just completed a survey that quizzed over 500 consumers about their holiday spending plans and concerns at a time when inflation is soaring and a recession looming. Their responses bode ill for not only retailers but the U.S. economy as well.
Also today: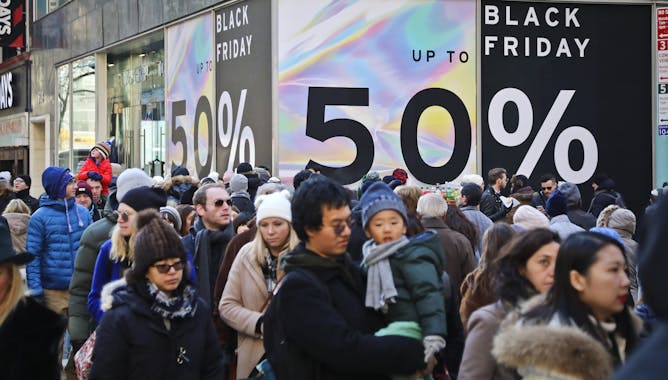 A new survey suggests three ways consumers are behaving like the US economy is in crisis, which may become a self-fulfilling prophecy.
Economy + Business
Politics + Society
At least six people have been killed in an attack at a Walmart in Chesapeake, Virginia. It happened amid a surge of mass shootings in the US.

Wilma Mankiller's groundbreaking tenure as chief of the Cherokee Nation introduced the US to the power of Indigenous women's leadership.

Countries across the Americas are tweaking their census to better understand their population, allowing them to create more responsive policies. The US still has a ways to go.
Environment + Energy
Education
Indigenous people's languages were largely lost as a result of forced assimilation efforts in the U.S. Here's why one tribal leader says the languages should be brought back.

Indigenous language instructors struggle to keep their languages from becoming lost.
The Conversation Quiz 🧠
Here's the first question of this week's edition:

What social network is rapidly gaining users leaving Twitter?

A. MySpace
B. Mastodon
C. Odeo
D. Orkut
From our international editions