Late last Friday night, the House passed a long-awaited $1 trillion infrastructure bill with bipartisan support, handing President Joe Biden a major legislative victory. This "hard infrastructure" bill will direct new spending toward America's bridges, roads and public transit — as well as support the development of better broadband in rural areas and safer drinking water in tribal communities. If you're like my husband, you're already eyeing a few local overpasses you're hoping to see upgraded.
But how do votes in Congress get translated into new pipes and paint? Ana Maria Dimand, a professor of public policy and administration at Boise State University, explains the government processes that control how federal money is spent — and how the government increasingly uses those processes to not only build things but to achieve social policy objectives.
To better help you understand the impact of the bill, Senior Environment and Energy Editor Jennifer Weeks dug into our archives and recommends five stories about how it targets bridges, bike lanes, electric car charging infrastructure and more.
Also today:
Emily Costello

Managing Editor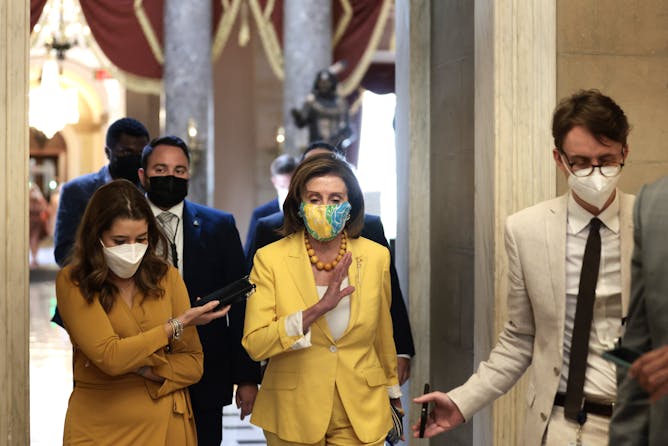 The government uses a process called public procurement. A professor of public policy explains how the process works and how it is increasingly used to achieve social goals.
Health
Ethics + Religion
A scholar on South Asian affairs traces the growth of Hindu nationalism, started by an atheist anti-colonial revolutionary, to the one adopted under Modi's government.
Environment + Energy
What will the $1.2 trillion infrastructure bill pay for? Here are some of the things it will help build, fix or remove.

Climate change is making ocean levels rise in two ways. It's a problem that will endure even after the world stabilizes and slashes greenhouse gas pollution.
Economy + Business
October's employment report was rosy, with more than 500,000 jobs added in the month. There were also signs that the American workforce was heading back to the old normal.
Politics + Society
Glenn Youngkin, the newly elected Virginia governor, just gave the GOP a blueprint on how to win local elections with a national message – and without embracing Trump in public.
Arts + Culture
Science + Technology
Trending on Site
Some viruses go extinct, while others stick around. The virus that causes COVID-19 seems likely to remain with us for the long term.

Many gun rights advocates claim that the right to carry guns is a universal right that has spanned centuries and nations. History tells a different story.

The Supreme Court ruled in 2008 that you have a constitutional right to have a gun in your home. Now, the justices will consider how far outside of the home that right extends.