Yesterday, the Biden administration declared monkeypox a national public health emergency. Another virus, another federal state of emergency and another reason to pay way more attention to vaccines than I ever thought I'd need to. Thankfully, monkeypox isn't nearly as contagious or as deadly as COVID-19. But there is another important difference between the early days of the COVID-19 pandemic and where the U.S. is today with regard to monkeypox: There are already two vaccines approved for use against the virus.
Maureen Ferran is a virologist and infectious disease researcher at the Rochester Institute of Technology. She has been one of The Conversation's go-to experts on coronavirus vaccines, so when it became clear that vaccination was going to be an important part of the monkeypox story, I could think of no one better to explain how these vaccines work, how protective they are and what is happening with the supply.
Also today: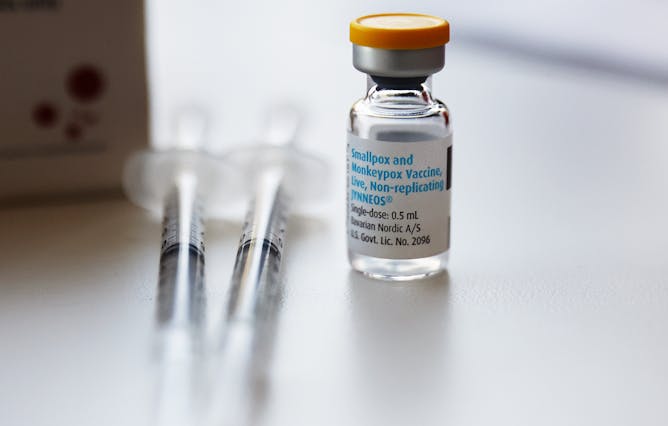 There are two approved monkeypox vaccines in the US. Both use a related poxvirus called vaccinia to produce an immune response that protects against smallpox and monkeypox.
Arts + Culture
Environment + Energy
Ethics + Religion
Policymakers often think of their decisions about nuclear weapons as moral, a nuclear ethicist explains – which is key to understanding their motives.

Distrust of government blended with strains of Christian fundamentalism can produce a violent form of Christian nationalism, a scholar explains.
Education
Health + Medicine
As more younger, single men ask for one following the Supreme Court abortion decision, a urologist explains what to expect with a vasectomy.
From our international editions