Top headlines
Lead story
This morning, we got word that Sen. Dianne Feinstein, the barrier-breaking politician from San Francisco, had died. Scholar Lincoln Mitchell writes for us about Feinstein's extraordinary career, which began when a tragedy in her native city catapulted her to national prominence and a life in politics that moved from northern California to the heights of power in the nation's capital. Throughout that almost 50-year career, the city of San Francisco was Feinstein's touchtone, writes Mitchell: "Even though Feinstein was a fixture in Washington, D.C., for more than three decades, San Francisco was always her home."
Without the support of readers like you, we wouldn't be able to produce the journalism that takes you behind the headlines, as the Feinstein story does. Today is the last day of our fall fund drive. I'm grateful to those who find value in our work and support it (as well as putting up with all the requests!). As a nonprofit newsroom that has no paywall and distributes articles for free, we need to ask you, our readers, to help sustain us.
Your dollars, whether $10, $100 or $1,000, help support our evidence-based journalism – these important collaborations between researchers and editors – that millions of people read each month. In addition to the breaking news, you'll learn about the threat of AI to the 2024 presidential election, the decades of controversy over shorts and much more. And when you're done, take our quiz to test your knowledge on this week's stories.
Thank you. If you have not given, and have the means to do so, please support us. And if you cannot donate, I – and the team – thank you for reading our work.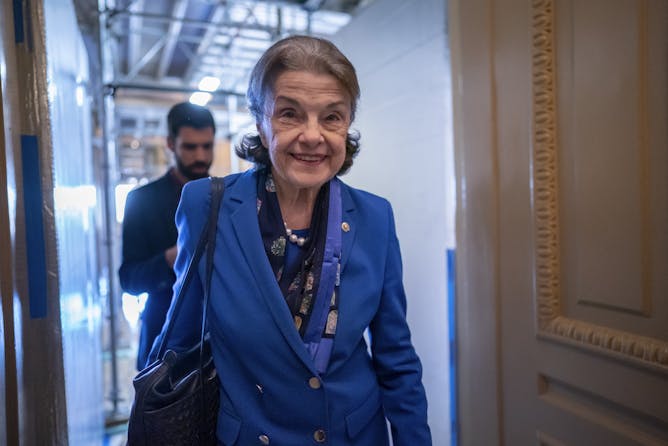 Most Americans knew the late Dianne Feinstein as a US senator. But for San Francisco voters, she will forever be remembered as the woman who stepped in at a tragic moment to lead the city.
Economy + Business
Science + Technology
Arts + Culture
As fashion norms change, what people wear in public becomes ground zero for hashing out new ideas of race, class and gender.

Studios say the number is unrealistic − that it amounts to actors not assuming any financial risk for content that flops. But actors simply want to adapt existing payout models to changing technology.
Education
Environment + Energy
For students to learn in a safe, healthy environment, school administrators must deal with a myriad of potential environmental contaminants, from allergens to cockroaches.
Ethics + Religion
Catholicism, 'Frenchness' and secularism are often conflated in French culture, a scholar writes, while non-Christian traditions are viewed with suspicion.
The Conversation Quiz 🧠
Here's the first question of this week's edition:

Let's see how closely you're following the presidential debates. The GOP debate on Sept. 27 was held where?

A. Madison Square Garden
B. The Buckeye Express Diner in Bellville, Ohio
C. The Andy Griffith Playhouse in Mt. Airy, N.C.
D. The Ronald Reagan Presidential Library