The COVID-19 vaccine is free to all Americans thanks to one long-contested and embattled federal law – namely, the Affordable Care Act.
A number of preventive health care services are free because of a specific provision of the Affordable Care Act, Section 2713. By reducing financial barriers to preventive services like cancer screenings and well-child visits, it sought to encourage patients to utilize these services to identify and treat illnesses before they develop into more severe and costly conditions.
A lawsuit pending at a Texas district court, however, may put this provision in jeopardy. While the ACA has faced many legal challenges since its conception, the Kelley v. Becerra trial could end up hurting patients both in their wallets and access to care.
Boston University public health and economics researchers Paul Schafer and Alex Hoagland examined where the preventive care provision of the ACA succeeded and failed in reducing out-of-pocket costs for patients. They explain what patients stand to lose should this provision be struck down.
Also today:
Vivian Lam

Health and Biomedicine Editor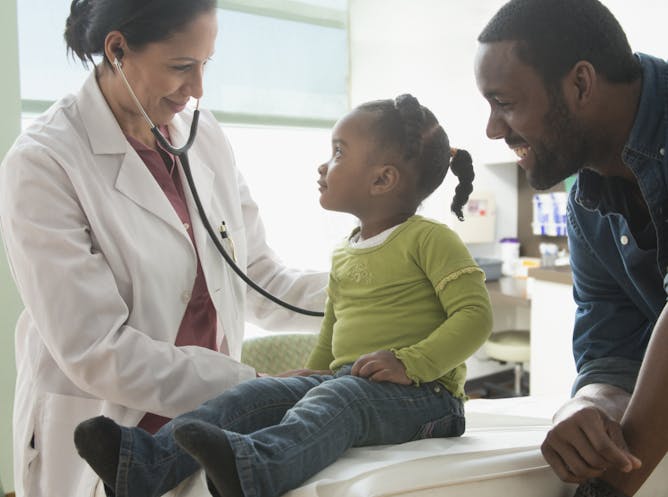 The Affordable Care Act has allowed many preventive health services, including cancer screenings and vaccines, to be free of charge. But legal challenges may lead to costly repercussions for patients.
Science + Technology
If you see the Tesla Bot as a joke or a harbinger of a dystopian future, you could be missing the real threat, which has more to do with Elon Musk's power than robots run amok.

Gravity, mass and centrifugal force all contribute to the final shape of a planet.
Environment + Energy
Ethics + Religion
Day 5 our Understanding Islam series. For some Muslim women, wearing a hijab can be a religious act but Muslim women's clothing isn't entirely about faith. It has been used – and is still used – as an assertion of identity.

'Heartbeat' abortion laws like the one enacted in Texas are often based on particular Christian views, but there are many religious perspectives on abortion. What do Jewish texts say?

The #MyOrthodoxLife movement challenges both mainstream and ultra-Orthodox media to tell more nuanced and complex stories about Jewish women.
Economy + Business
Arts + Culture
Education
Health
Politics + Society
Trending on site
The country became the first to make bitcoin a formal part of its payments system, but whether it'll catch on is another story.

Using remnants of fossilized trees, scientists and an artist figured out what the forest looked like long before humans existed.

Some states have a legal framework allowing "mature minors" to make their own health care decisions – but they apply it in different ways, and some don't have it at all.