President Donald Trump's early morning tweet that he and the First Lady tested positive for COVID-19 stunned the nation and world. By mid-morning, media were reporting that the president was exhibiting mild cold-like symptoms and planned to quarantine himself in the White House. Other officials, including Vice President Mike Pence, have tested negative.
At 74 years old, Trump is in an age group with a much greater risk of experiencing complications from the disease. Colorado State University immunology expert Brian Geiss explains why.
Trump's positive test also raises concerns over whether he'll need to hand power over to Pence. Worth another read this morning is an article we published in 2018 – during another kind of crisis – that explains how the power of the president changes hands.
Also today:
Maggie Villiger

Senior Science + Technology Editor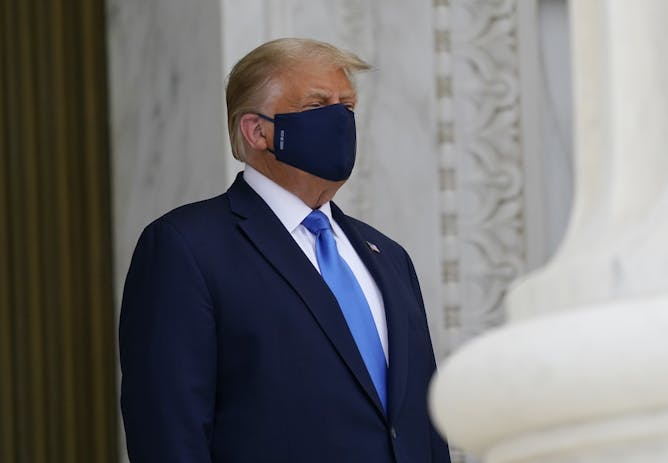 Older coronavirus patients face grimmer outlooks. A virologist explains the aging-related changes in how immune systems work that are to blame.
Politics/Election '20
The US Constitution allows the president to be removed from power if his vice president and Cabinet decide that he cannot discharge the duties of his office.

Functional political debates, like healthy democracies, require participants who respect the process and follow mutually agreed-upon rules.
Health
The Trump administration wants to go it alone when it comes to vaccine development and distribution. What does this mean for the U.S. and the world?

To understand the risks of wildfire smoke, it helps to understand the chemicals people are breathing.
Science + Technology
With 3% of science Nobels going to women and zero going to Black people, these awards are an extreme example of how certain demographics are underrepresented in STEM fields.

Local adaptation allows plants and animals to thrive in a diversity of places. Sometimes adaptation sharpens patterns of where organisms live, but 85% of the time, it creates a more homogeneous world.
Arts + Culture
Ethics + Religion
From our international editions
Herd immunity has entered the everyday language, but it is a much misunderstood term.

In an era of climate change and extreme weather, a microgrid — a self-sufficient, energy-generating distribution and control system — puts communities on the path to self-reliance.

The use of antiretroviral therapy among pregnant and breastfeeding women in Zambia has increased but adherence is a problem.