You may have heard of food insecurity, a term that means not having consistent access to enough food for an active, healthy life. Energy insecurity is a similar idea that's used to describe someone who has trouble paying to heat, cool and power their home.
It was already a problem for many low-income Americans before the COVID-19-induced recession. And now even more households are struggling to keep the lights and air conditioner on, according to a recent survey by Indiana University's Sanya Carley and David Konisky.
As parts of the U.S. experience heat waves that highlight the issue's urgency, the energy scholars have some ideas about what government can do to help.
Also today:
Jennifer Weeks

Environment + Energy Editor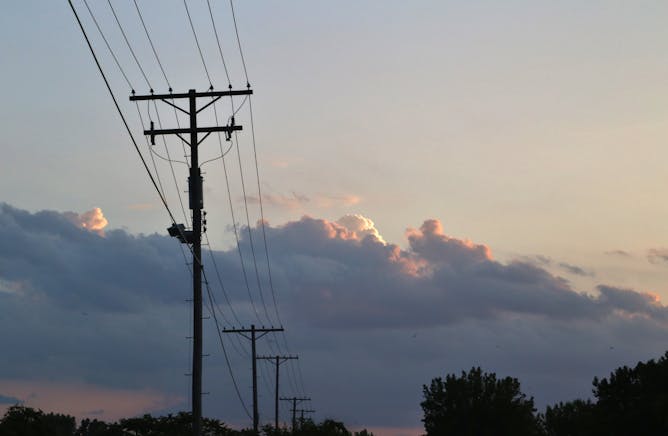 Many Americans had trouble paying their energy bills before COVID-19, and the current recession is making the problem worse.
Arts + Culture
Science + Technology
Ethics + Religion
Muslims throughout the world will celebrate the holiday of Eid al-Adha, or Festival of Sacrifice, beginning at sundown on July 30, but the coronavirus has changed many things.
Health + Medicine
The health care inequities suffered by Black Americans today began centuries ago.

A blood test to detect Alzheimer's disease in people who have symptoms and even those who don't has been shown to work. Scientists still need to improve its accuracy rate to almost 100%, however.

Test positivity rates measure the success of a testing program. Even though the US performs a huge number of tests, high test positivity rates across the country show that that it still isn't enough.
Politics + Society
With sales tax revenues plummeting because of the pandemic, many cities will face bankruptcy – and that could affect everything from retirees' pensions to whether roads get fixed.

Some militia members see political unrest as an opportunity to wrest power from an overbearing federal government. But others support strict enforcement of law and order.
Economy + Business
By not attaching any strings to the money, championing representation and generally taking care to respect nonprofit leaders, she's following five best practices.
Education
The stress of having children do distance learning at home during the pandemic is linked to an increase in alcohol consumption among parents, a new survey finds.

Not many Latino students major in business. A researcher explores the reasons why.
Most read on site
The post-pandemic office will be a lot more flexible but still will be necessary to help build relationships among colleagues, according to three scholars.

Though he had a speech impediment and came from humble beginnings, John Lewis went on to become a giant of the civil rights movement.

Millions of Americans may be at risk of losing their homes in coming months as eviction moratoriums expire and courts resume a process that heavily favors landlords.