I don't know about you, but when I reflect on this time last year, life seems quaint. China had yet to report its first cluster of cases of an unusual pneumonia, and here in the U.S., the big news was a roaring stock market. It's hard to believe how fast the coronavirus changed our lives. As I looked back on hundreds of stories that we commissioned about the virus since January, several stood out. Some were notable because they were reader favorites, such as one early in the pandemic that explained why so many epidemics originate in Asia and Africa. Others explained important topics that often go unreported, or underreported, by other media outlets. That includes a story from April about how COVID-19 was hitting Black and poor communities the hardest and an early explanation of why the coronavirus had the potential to kill hundreds of thousands of people in the U.S.
None of these are happy stories; I wish they were. But I do hope in some way that we helped you not only to stay safe but also to understand what was going on around you.
One last note: Our readers' generosity will help us continue to bring to you and the public reliable, fact-based journalism in 2021. We're grateful that many of you have already given to our end-of-the-year fundraising campaign, but if you've been putting it off, The Conversation U.S.'s board will match your donation two dollars for every dollar, up to a total of $12,500 in gifts before the New Year.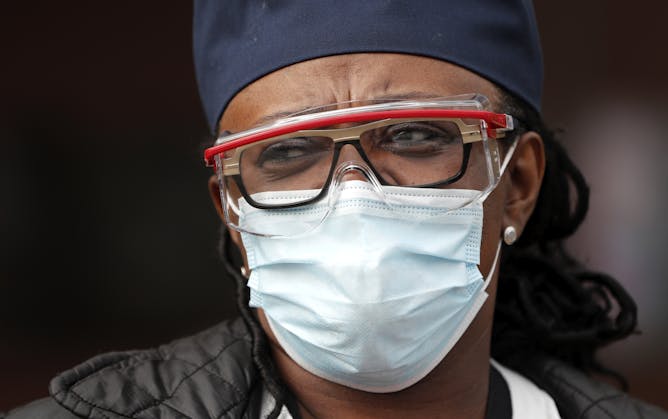 Blacks are dying at higher rates from COVID than whites, showing yet another example of gaps in outcomes between blacks and other groups. The cause is more sociological than biological.
The CDC has long been a trusted source of health information, keeping the public not only safe but calm in times of disease outbreaks. Public health officials fear now for its reputation.

Initial data from the outbreak in China did not reveal as much information as scientists needed to assess the epidemic. Now, more accurate data suggest an epidemic worse than some previously thought.
Readers' picks
From the neighborhood to the newsroom to the White House, nobody stays silent during a health emergency. These terms are often mixed up, and it matters who is using them and when.

COVID-19 is not the first – nor likely the last – to emerge from the two continents.

Margot Gage Witvliet went from being healthy and active to fearing she was dying almost overnight. An epidemiologist, she dug into the research to understand what's happening to long-haulers like her.