Picower Research & Discoveries
A new "atlas" of cells that carry blood to the brain
In vessels of people with Huntington's disease (right image) researchers saw much higher indications of innate immune signaling (green) and much lower levels of a protein associated with blood-brain barrier integrity (white), than in people who did not have the disease (left image). Images by Francisco Garcia.
Single-cell gene expression analyses of human cerebrovascular cells can help reveal new drug targets for Huntington's disease and other neurodegenerative diseases.
Cerebrovascular cells, which form the blood vessels that deliver oxygen and other nutrients to the brain, comprise only 0.3 percent of the brain's cells. But they also make up the blood-brain barrier, a critical interface that prevents pathogens and toxins from entering the brain, while allowing critical nutrients and signals through. Researchers from MIT have now performed an extensive analysis of these difficult-to-find cells in human brain tissue, creating a comprehensive atlas of cerebrovascular cell types and their functions. Story continues>>
'Traveling' nature of brain waves may help working memory work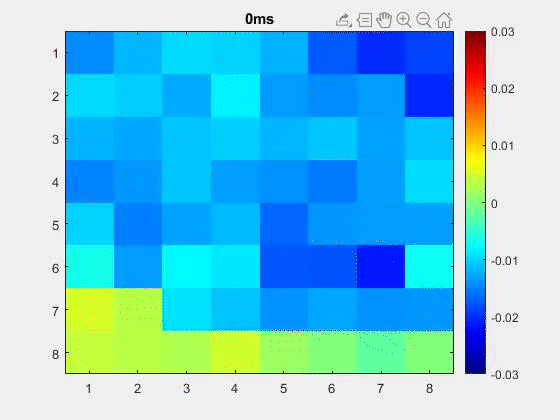 A rotating traveling wave as measured by an 8X8 electrode array. Red indicates the peak of the wave while blue indicates the trough.
The act of holding information in mind is accompanied by coordination of rotating brain waves in the prefrontal cortex, a new study finds.
After more than a century of study, the significance of brain waves – the coordinated, rhythmic electrical activity of groups of brain cells – is still not fully known. An especially underappreciated aspect of the phenomenon is that waves spatially propagate, or "travel," through brain regions over time. A new study by researchers at The Picower Institute measured how waves travel in the brain's prefrontal cortex during working memory to investigate the functional advantages that this apparent motion may produce. Story continues>>
Research advances technology of AI assistance for anesthesiologists
A new deep learning algorithm trained to optimize doses of propofol to maintain unconsciousness during general anesthesia could augment patient monitoring
A new study by researchers at MIT and Massachusetts General Hospital suggests the day may be approaching when advanced artificial intelligence systems could assist anesthesiologists in the operating room. Story continues>>
Next-generation tissue expansion method improves neural imaging
Using eMAP researchers labeled protein components on both the presynaptic side (bassoon) and post-synaptic side (PSD-95) of an excitatory synapse in a mouse.
eMAP, an upgrade of 'MAP,' enables labeling of more proteins, deeper studies of circuit junctions in brain tissue
MIT researchers have made vast improvements in tissue expansion technology, enabling new capabilities for imaging the structure of neural connections, or synapses, with standard confocal microscopes. Story continues>>
Mriganka Sur elected to the 2022 class of the AIMBE College of Fellows
The American Institute for Medical and Biological Engineering (AIMBE) has elected Mriganka Sur to its College of Fellows. Peers and members of the AIMBE college nominated, reviewed, and elected Sur for developing technologies to image brain cells, synapses and circuits and applying them innovatively to elucidate neuronal plasticity and computations. Story continues>>
Watch Li-Huei Tsai's TED talk on research to treat Alzheimer's disease by stimulating brain waves
Li-Huei Tsai's TED talk "Are brain waves the secret to treating Alzheimer's?" delivered live to an exclusive audience at TED Monterey last summer, is now online for free at TED.com. Tsai described her lab's research on using light and sound to stimulate 40Hz brain waves to potentially treat Alzheimer's disease. Click the link or image above to watch the talk and learn more.
PhD Alumna Scarlett Barker:

Keeping the mind sharp
As a graduate student in the lab of Picower Institute Director Li-Huei Tsai, Scarlett Barker co-led a study that identified a molecular mechanism by which enriching life experiences endow the brain with resilience to dementia, even as pathology builds up.
"I was always interested in human behavior and the brain," she says. "I got more interested in dementia during college when my godfather's mind began to fail." Story continues>>
Help support the Aging Brain Initiative during MIT's 24-hour Challenge March 10
The Aging Brain Initiative brings together the expertise, knowledge, and technical resources of labs across MIT to solve the mysteries of the aging brain and to combat currently incurable neurodegenerative disorders including Alzheimer's disease.
On Thursday March 10 during MIT's 24-hour Challenge, if 100 donors give ANY amount to the Aging Brain Initiative, Priscilla Gray, wife of former MIT President Paul Gray, will make a gift of $5,000. If an additional 100 donors give to the Aging Brain Initiative that day, she will make an additional gift of $5,000. Thank you for your consideration. Donate March 10>>
In an commentary for Gizmodo, Professor Matthew Wilson writes that animals (not just humans) dream to help make sense of the world. "I don't believe that dreams are random," he said. "They have a purpose; something important goes on there, and it relates in some way to really understanding how the world works."
Kwanghun Chung contributed to a Harvard-led study showing that three genes linked to autism critically alter the pace at which crucial brain cells develop. Coverage in The Scientist featured brain organoid imaging from Chung's lab that was integral to the work.
Earl Miller spoke with WebMD about what the popular game Wordle does for our brains. It's a fun way to give your brain a healthy workout, but don't over-stress about it, he says. And to keep it lighthearted, watch a clip from Real Time With Bill Maher as author Johann Hari cites Miller's advice that people can't really multitask.
A note about events: Amid the ongoing uncertainties imposed by the Covid-19 pandemic, our event schedule and details of each event are subject to change. Please check associated links frequently in advance of events that interest you.
NEW DATE!
"Two Decades of Picower Discovery & Impact"
All this year we are celebrating a huge milestone: The 20th Anniversary of the gift from Barbara and Jeffry Picower that made us The Picower Institute. Tune in September 22 for our 20th Anniversary Exhibition "Two Decades of Picower Discovery & Impact." Click the image or this link to peruse an outline of the agenda and check back often as more information is posted.