Picower Research & Discoveries
When Alzheimer's degrades cells that cross hemispheres, visual memory suffers
Disease degrades structure and function of cells that span brain hemispheres to coordinate activity in visual processing centers.
A new Picower Institute study finds that Alzheimer's disease disrupts at least one form of visual memory by degrading a newly identified circuit that connects the vision processing centers of each brain hemisphere. The results come from experiments in mice, but provide a physiological and mechanistic basis for prior observations in human patients: the degree of diminished brain rhythm synchrony between counterpart regions in each hemisphere correlates with the clinical severity of dementia. Story continues>>
How microglia contribute to Alzheimer's disease
As part of their study, researchers generated neurons from induced pluripotent stem cells. Dendrites of the neurons are stained cyan in this image.
A breakdown of lipid metabolism in microglia brain cells promotes inflammation and interferes with neuron activity
One of the hallmarks of Alzheimer's disease is a reduction in the firing of some neurons in the brain, which contributes to the cognitive decline that patients experience. A new Picower Institute study shows how microglia cells contribute to this slowdown of neuron activity. The study found that microglia that express the APOE4 gene variant, one of the strongest genetic risk factors for Alzheimer's disease, cannot metabolize lipids normally. This leads to a buildup of excess lipids that interferes with nearby neurons' ability to communicate with each other. Story continues>>
Advanced imaging reveals mired migration of neurons in Rett syndrome models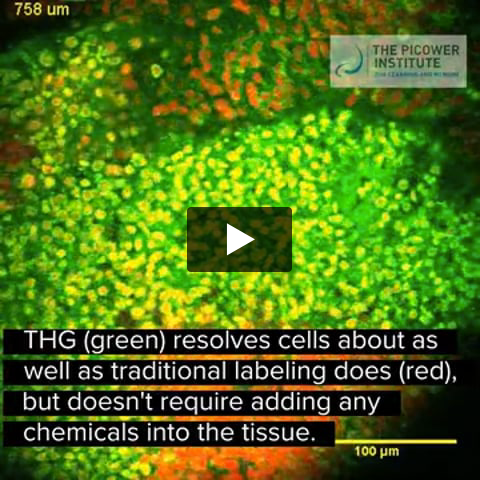 A video overview of THG imaging and how it enabled new findings about early brain development in Rett syndrome.
Using organoids to model early development, researchers used an emerging microscopy technology to see that new neurons struggle to reach their developmental destination
Employing an innovative microscopy method, scientists at The Picower Institute observed how newborn neurons struggle to reach their proper places in advanced human brain tissue models of Rett syndrome. The findings offer new insight into how developmental deficits observed in the brains of patients with the devastating disorder may emerge. Story continues>>
Microscopy technique reveals hidden nanostructures in cells and tissues
Magenta indicates the nanostructure of the Alzheimer's-assocaited amyloid beta protein, which was revealed by post-expansion staining. The image shows its helical structure, which had not been resolved with previous techniques. Image by Zhuyu Peng and Jinyoung Kang
Separating densely packed molecules before imaging allows them to become visible for the first time
Inside a living cell, proteins and other molecules are often tightly packed together. These dense clusters can be difficult to image because the fluorescent labels used to make them visible can't wedge themselves in between the molecules. MIT researchers have now developed a novel way to overcome this limitation and make those "invisible" molecules visible. Their technique allows them to "de-crowd" the molecules by expanding a cell or tissue sample before labeling the molecules, which makes the molecules more accessible to fluorescent tags. Story continues>>
How the brain focuses on what's in mind
Remembering a set of directions is an example of working memory.
When holding information in mind, neural activity is more focused when and where there are bursts of gamma frequency rhythms
Working memory, consciously holding and manipulating new information in mind, takes work. In particular, participating neurons in the prefrontal cortex have to work together in synchrony to focus our thoughts, whether we're remembering a set of directions or tonight's menu specials. A Picower Institute study shows how that focus emerges. Story continues>>
Simple animal model reveals how environment and state are integrated to control behavior
The neuron AWA, which integrates state and sensory information to guide behavior, stretches from the C. elegans worm's brain to its nose. Image courtesy Ian McLachlan.
A new study shows how stimuli and states such as smells, stressors and satiety converge in an olfactory neuron to guide food-seeking behavior
Say you live across from a bakery. Sometimes you are hungry and therefore tempted when odors waft through your window, but other times satiety makes you indifferent. Sometimes popping over for a popover seems trouble-free but sometimes your spiteful ex is there. Your brain balances many influences in determining what you'll do. A new MIT study details an example of this working in a much simpler animal, highlighting a potentially fundamental principle of how nervous systems integrate multiple factors to guide food-seeking behavior. Story continues>>
Sprint then stop? Brain is wired for the math to make it happen
To ensure a quick halt, brain circuit architecture avoids a slow process of integration in favor of quicker differentiation
Your new apartment is just a couple of blocks down the street from the bus stop but today you are late and you see the bus roll past you. You break into a full sprint. Your goal is to get to the bus as fast as possible and then to stop exactly in front of the doors to enter before they close. To stop quickly and precisely enough, a new Picower Institute study in mice finds, the mammalian brain is niftily wired to implement principles of calculus. Story continues>>
When a task adds more steps, this circuit helps you notice
In their study, researchers traced neurons projecting from the anterior cingulate cortex (right, red) to the motor cortex (left, green). Note the images are at different scales.
By tracking feedback during tasks, the anterior cingulate cortex notices when a new step has become necessary and signals the motor cortex to adjust
Life is full of processes to learn and then relearn when they become more elaborate. One day you log in to an app with just a password, then the next day you also need a code texted to you. Our brains need a way to keep up. A new study by neuroscientists at The Picower Institute reveals some of the circuitry that helps a mammalian brain learn to add steps. Story continues>>
At a research forefront, young scholar looks ahead to graduate school, chance to mentor others
Post-baccalaureate scholar Eric Bueno works on computer analysis of neural imaging in the lab of Associate Professor Steven Flavell.
As he works to solve an advanced problem at the intersection of computing and neurobiology, post-baccalaureate scholar Eric Bueno is also thinking of how he could pay his experience forward
The son of immigrants from the Dominican Republic, Eric Bueno represents the first generation in his family to go to college, but the computer science degree he earned at the University of Connecticut last year has turned out to be just the beginning of what he's on his way to accomplishing in higher education. Now in the MIT Brain and Cognitive Sciences Research Scholars Program, his sights are set on a PhD and becoming the kind of mentor who has helped him along the way. Story continues>>
After recent research by the labs of Susumu Tonegawa and Kwanghun Chung showed that memories are stored all over the brain,
Discovery.com
's Curiosity Daily podcast covered the news. Two outlets, the
BBC
's Science Focus magazine and
Scientific American
covered a recent study by Mriganka Sur's lab showing how a brain chemical associated with surprise helps us learn.
A note about events: Amid the ongoing uncertainties imposed by the Covid-19 pandemic, our event schedule and details of each event are subject to change. Please check associated links frequently in advance of events that interest you.
Register now for 'Two Decades of Discovery & Impact'!
All this year we are celebrating a huge milestone: The 20th Anniversary of the gift from Barbara and Jeffry Picower that made us The Picower Institute. Register Now to tune in September 22 for our 20th Anniversary Exhibition "Two Decades of Picower Discovery & Impact."