Pioneer Pulpit
Next Series: "Joshua Fit the Battle of Jericho" – Dwight K. Nelson

May 14 – ​"I Spy"
May 21 – Prescott Khair
Prayer Promise
"Therefore, my dear brothers and sisters, stand firm. Let nothing move you. Always give yourselves fully to the work of the Lord, because you know that your labor in the Lord is not in vain."
1 Corinthians 15:58 NIV
Livestreaming Schedule
9:00 AM ET - Pioneer at Worship
11:45 AM ET - Pioneer at Worship
Offering
Schedule
May 14: Disaster and Famine Relief
May 21: Pioneer Operating Budget
May 28: Michigan Advance Partners

Financial Reports | Give Online
Renovate Balance: $250,735 (04/16/22)
When You Can't Fly, Do This
PASTOR'S BLOG
On Tuesday afternoon it was a nightmare come true. The pilot of the Cessna Caravan (a 38-foot single-engine 14-passenger aircraft) suddenly slumped over at the controls. Moments later a passenger clicks on the radio to air traffic control: "'I've got a serious situation here—my pilot has gone incoherent. I have no idea how to fly the airplane.'" No idea! Imagine yourself gripping that microphone.
Summer Grow Group Leaders Wanted!
Summer is almost here, and with it comes a great opportunity to lead a Grow Group! The summer session is a fantastic time to take advantage of the best weather Michigan has to offer by leading outdoor activity groups, or taking any type of group outside for some fresh air and sunshine!

Grow Groups are Pioneer's small groups, led by individuals who are committed to discipleship, mentorship, & the 5 S's: Shared interest, Spiritual touchpoint, Service project, Social event, Semester-based. Grow Groups are for EVERYONE—church members and nonmembers, locals and non-locals alike are welcome to join.

For more information please email growgroups@pmchurch.org.
Meals for Mom
Pioneer's Preschool Pray & Play group provides families who are welcoming new children into their homes (by birth, adoption, foster care, etc.) with meals. You don't need to cook to help out!
We're in need of people who can:
make and deliver meals
order take-out and deliver it
help us identify families who are expecting new children
As we get more volunteers, we're hoping to expand this ministry to help families identify the many rich resources available to them at Pioneer and in our community. We want to be the hands of Jesus to new parents and their kids as families grow.
To volunteer with this ministry, please register at the link below.
For more information, email prayandplay@pmchurch.org.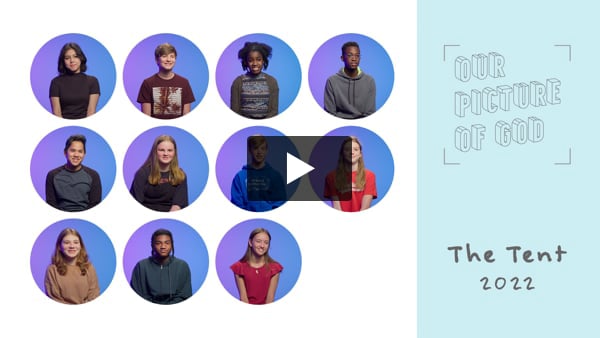 The Tent: "Our Picture of God"
Friday, May 13—22, 2022
The Junior High students from Ruth Murdoch Elementary School will hold The Tent meetings again this year. We invite you to support our kids by coming out, watching online. Be sure to invite a friend or family member to join too, so they can get to know Jesus better.
Join Our Prayer Team
If you enjoy praying for others, you're invited to join one of our prayer teams which meet in person at the church during either the first or second service. Teams will rotate on a scheduled basis. A monitor in the prayer room allows the teams to listen to the congregational prayer and the sermon. For more information, text "PRAY" to
269-281-2345.
Springtime Luncheon
SPONSORED BY WOMEN'S MINISTRIES
Topic: Daily Time with Jesus
Speaker: Esther Knott
May 22, 2022, 10:00 AM
Pioneer Commons
Pioneer Women's Ministries is hosting a ladies' Springtime Luncheon. For gluten-free options email: yolande.robertson@pmchurch.org To register text "PWMLUNCH" to 269-281-2345. Registration is required! Registration Deadline: May 18, 2022.
Offering for May 14, 2022
Disaster & Famine Relief
Galatians 6:2 "Carry each other's burdens, and in this way you will fulfill the law of Christ." Adventist Community Services (ACS) works with the local conferences and disaster response agencies to equip volunteers to serve and assist the community, providing disaster assessments, sheltering services, donation management, home reconstruction, and emotional and spiritual care. In 2020 – 2021, COVID-19 caused a heavy toll on ACS Food Pantries/Centers, yet our volunteers continued to serve families and individuals who were facing challenges due to this crisis.