Pioneer Pulpit

May 21 – "Finding Favor" – Prescott Khair
May 28 – ​RMES/AA Baccalaureate
Prayer Promise
"Pray in the Spirit at all times and on every occasion. Stay alert and be persistent in your prayers for all believers everywhere."
Ephesians 6:18 NLT
Livestreaming Schedule
9:00 AM ET - Pioneer at Worship
11:45 AM ET - Pioneer at Worship
Offering
Schedule
May 21: Pioneer Operating Budget
May 28: Michigan Advance Partners
June 4: Pioneer Operating Budget

Financial Reports | Give Online
Renovate Balance: $243,957 (05/07/22)
Summer Grow Groups Ready to Join!
This summer we have some great leaders who are looking forward to sharing a wide variety of groups, both online and in person. All are welcome to join – Grow Groups are for everyone!
Summer groups will meet from June 5 – July 30.
View the available groups online or text "JOIN" to 269-281-2345. Contact growgroups@pmchurch.org if you have questions or need assistance.
Church Access for Attendees
with Physical Challenges
Pioneer is pleased to announce that transportation will be provided for Sabbath services for attendees with physical challenges who would have trouble in negotiating stairs.
Pioneer Traffic and Deacon teams will transport attendees by golf carts from the canopy entrance to the doors at the east entrance (JN Andrews statue). At the end of the service, attendees will be invited to return to the door and alert a greeter to contact the cart that will transport them to their cars.
If you would like to be picked up from your car at the start of the service instead of at the canopy entrance, please call the church office on 269-471-3133 by Friday at 10:00 AM and supply the following information:
Name(s) of attendees
Service attending
Make, model, and color of car
Estimated time of arrival
We hope that this interim measure will be a helpful blessing to you.
Andrews Academy's Graduation
Weekend Events
Congratulations, Andrews Academy seniors! May the same Lord who got you here
lead you into the uncharted adventure ahead! "I am with you always," is
His promise. Everyone is invited to attend graduation weekend events. Class
Night May 26, 7:00 PM at Andrews Academy; Consecration May 27, 8:00 PM at Village SDA Church; Baccalaureate May 28, 11:45 AM at Pioneer, Commencement May 29, 11:00 AM, also at Pioneer.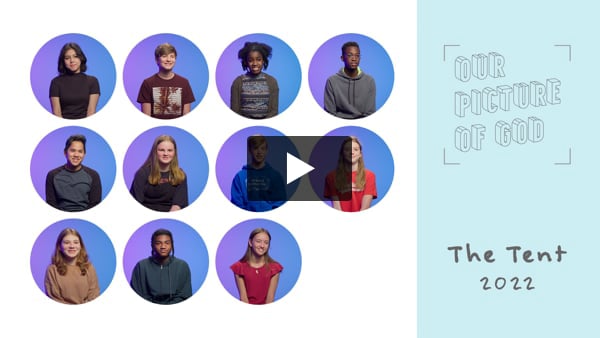 The Tent: "Our Picture of God"
May 13–22, 2022
The Junior High students from Ruth Murdoch Elementary School are holding "The Tent" meetings again this year. We invite you to support our kids by coming out or watching online. Be sure to invite a friend or family member to join too, so they can get to know Jesus better.
Springtime Luncheon
SPONSORED BY WOMEN'S MINISTRIES
Topic: Daily Time with Jesus
Speaker: Esther Knott
May 22, 2022, 10:00 AM
Pioneer Commons
Pioneer Women's Ministries is hosting a ladies' Springtime Luncheon. For gluten-free options email: yolande.robertson@pmchurch.org To register text "PWMLUNCH" to 269-281-2345. Registration is required! Registration Deadline: May 18, 2022.
Offering for May 21, 2022
Pioneer Operating Budget
1 John 3:16 "This is how we know what love is: Jesus Christ laid down his life for us. And we ought to lay down our lives for our brothers and sisters." We worship God with our resources because of His sacrificial love. Jesus left heaven, and He embraced the plight of fallen humanity. He accomplished his mission against fearful odds and dire resistance. Finally, He offered it all, His own life. This is how He demonstrated love. As God's representatives, a sacrificial spirit is part of our identity. That was the spirit demonstrated by our church's pioneers, and J.N. Andrews was a leading figure among them.