Pioneer Pulpit
Series: "Peace on Earth All Over Again" – Dwight K. Nelson

December 25 – "Peace on Earth All Over Again—Redux 3"

———————
January 1 – John Glass
January 8 – Dwight K. Nelson
Prayer Promise
"The virgin will conceive and give birth to a son, and they will call him Immanuel"(which means "God with us").
Isaiah 7:14 NIV
Offering
Schedule
Dec 25: Michigan Advance Partners
Jan 1: Michigan Advance Partners
Jan 8: Religious Liberty

Nov. Finance Report | Give Online
Renovate Balance: $367,728 (12/11/21)
A Christmas Prayer: "We Are Still in the Sea... Not Sure [Who] Is Coming
PASTOR'S BLOG
Those are the last words of 30-year-old Shakar Ali Pirot, one of over thirty Middle East migrants who perished in the English Channel a few nights ago, their desperate flight to freedom ending tragically. In this case, the electronically captured recording of the cry for help from the sinking dinghy says it all: "We are still in the sea between the UK and France. We're not sure which is coming [to rescue us]".
Happy 100th Birthday!
Donna Wheeker, a member at Pioneer for many years, as well as Andrews Academy Librarian, is turning 100 years old on January 9, 2022. If you would like to send her a birthday card, please submit it to the Pioneer front desk. She would love to hear from you. Email algersallie@gmail.com if you have any
questions.
Merry Christmas!
December 25 • 9:00 & 11:45 AM
Enjoy an outdoor cup of fresh hot chocolate with other worshipers as you leave either celebration Sabbath morning (at the front and back exits on the circle side). Special thanks to Gerre St. Clair and her team of volunteers.
Pioneer Office Closure
Due to the upcoming holidays, the Pioneer offices will be closed on the following dates:
Thursday, December 23 after 12:00 PM
Friday, December 24
Monday, December 27
Thursday, December 30
Friday, December 31
Thank you for your understanding and may God bless you!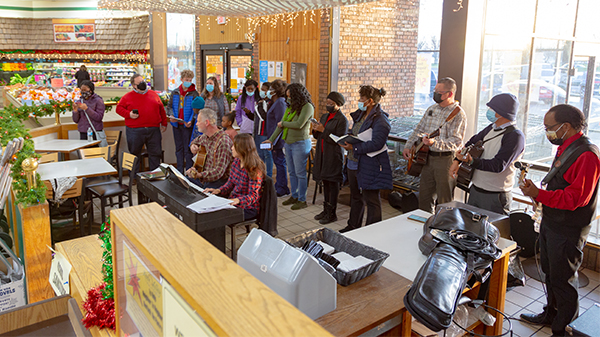 Caroling with Pioneer
Some of our Pioneer family shared carols of the season this past week with shoppers at Apple Valley Market here in Berrien Springs. Just one more way Pioneer is Love on the Move during this holiday season.
Something in Common
Get your family ready for Christmas and its deeper meaning. Join our Something in Common Sabbath School class at 10:30 AM. Sabbath Morning in Room 141. They will be showing and discussing the DVD study series, "The Christmas Experience".
December 25–"This is God's Plan?," January 1–"Immanuel," January 8–"Gold, Frankincense, Myrrh"
Offering for December 25, 2021
Michigan Advance Partners
It had been a hard year for the family. Expenses had been high, income ran low. They had to go to the food bank to receive powdered milk, blocks of cheese, and whatever other staples were available. They had a few special treats. By the middle of December, the children began asking questions.
Pioneer Memorial Church
8655 University Blvd
Berrien Springs, MI 49103
United States
269-471-3133
info@pmchurch.org